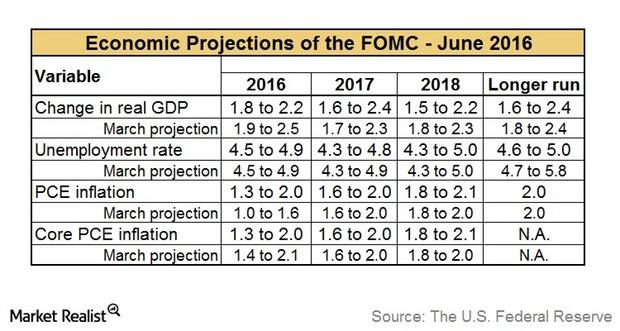 June 2016 Economic Projections: PCE Inflation to Rise in 2016
By David Ashworth

Jun. 17 2016, Published 12:02 p.m. ET
Summary of economic projections
The FOMC (Federal Open Market Committee) releases an SEP (Summary of Economic Projections) in four of the scheduled eight meetings in a year. In it, FOMC members present their projections on the following three variables:
PCE (personal consumption expenditures) inflation
economic growth
unemployment rate
The SEP presents the following:
range of projections – the lowest to highest figures projected for an indicator
central tendency of the projections – excludes the three highest and three lowest projections for the variables
median value of their projections – added in September 2015
Let's look first at PCE inflation expectations.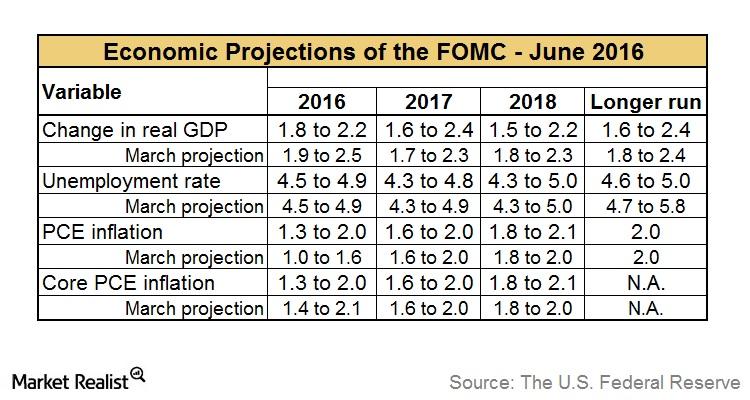 Article continues below advertisement
PCE inflation
The FOMC's PCE inflation projections for 2016 have increased from 1.0%–1.6% in March to 1.3%–2.0% in June. Both the central tendency and the median for PCE inflation have risen for 2016. The lower end of the central tendency has increased from 1.0% to 1.3%, and the median has risen to 1.4% from 1.2% in March.
Core PCE inflation
Just like PCE inflation at the lower end of the range, the central tendency and median of projections for core PCE inflation have risen for 2016.
Implications
Projections for core PCE inflation have risen slightly, and overall PCE inflation has increased significantly. This shows that while non-energy-related consumer spending will nudge up core PCE, a rise in fuel prices (TOT) (PTR) (TS) is expected to spark the rise in overall inflation this year.
Investors in mutual funds such as the ClearBridge Aggressive Growth Fund – Class A (SHRAX) and the Fidelity Blue Chip Growth Fund (FBGRX) will benefit if energy prices rise. These funds have almost a fifth of their assets invested in the energy sector.
In the next part of the series, we'll look at projections for the other two variables: economic growth and unemployment rate.