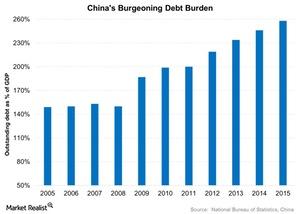 Why Jim Chanos Thinks China's Outlook Is Pretty Grim
By Lynn Noah

Updated
Jim Chanos on China's outlook
Jim Chanos, the founder of Kynikos Associates with assets under management of over $3 billion, believes that China's (ASHR) (FXI) outlook is pretty grim due to its immense debt burden. He also said earlier that the Chinese economy is a "treadmill to hell" running on debt.
He stated that China's financial system looks similar to Wall Street investment banks just before the financial crash. Earlier, George Soros also stated that China resembles the US financial crisis in 2007–08, which was also fueled by credit growth.

In 2015, China grew at only 6.9%. Despite this, debt has been skyrocketing, and debt levels as a percentage of GDP were 258% in 2015, up from 158% in 2007.
China's debt is expected to grow at a faster rate than economic growth and may be around 300% by 2020. At this point, economic growth would come to a standstill, as a growing share of GDP would go to interest payments.
Article continues below advertisement
Asset-liability mismatch
Chinese banks are financing uneconomic, or unviable, projects with debt. This debt is then financed through loans in the repo market. These loans appear on the balance sheets of Chinese banks. According to Chanos, asset-liability mismatch is the major problem that people aren't paying enough attention to. Asset-liability mismatch was the main cause of the US (SPY) (VBMFX) financial crisis.
In the next article, we'll look at how China's stock market performed last week.