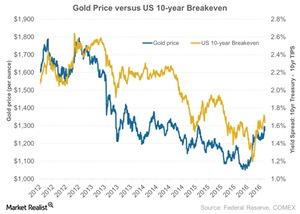 Investors' Flight to Safety: Where's Gold Headed Now?
By Meera Shawn

Updated
Gold and inflation
Gold has an important interrelationship with many macro indicators, including inflation, interest rates, and pricing currencies. Gold is also famously known to be a hedge against rising inflation. When inflation increases, we can expect gold to rise as well. During times of higher prices—that is, inflation—and also during peak uncertainties in the markets, investors rush to safety, which is most typically gold.
Below is a graph that shows the relationship of gold to inflation. The US ten-year break-even rate measures inflation. The US Treasury ten-year break-even is the spread between the ten-year Treasury yield the ten-year inflation-protected security yield.
Article continues below advertisement
Monetary policies
Denis Gartman at CNBC has advised investors to invest in gold. In fact, he maintained that any currency that seems to weaken in the future should opt for gold investments. The euro has appreciated 4.6% against the US dollar YTD (year-to-date), but Gartman said he sees trouble for Europe. Weak output and productivity, in addition to loosening monetary policies, may be unable to support the continent, and the currency could weaken further. In fact, the Eurozone's loosening monetary policy could spike inflation and help gold.
Funds and mining companies impacted
Any fluctuation in inflation can significantly affect the price of gold, in addition to other precious metals and funds like the iShres Silver Trust (SLV) and the iShares Gold Trust (IAU), which rose by 0.25% and 1.2%, respectively, on a 30-day trailing basis.
Mining companies also closely follow precious metals and almost always double or triple their returns following the directions in metals. The miners that increased the most over the past month include Hecla Mining (HL), IamGold (IAG), and Cia De Minas Buenaventura (BVN).