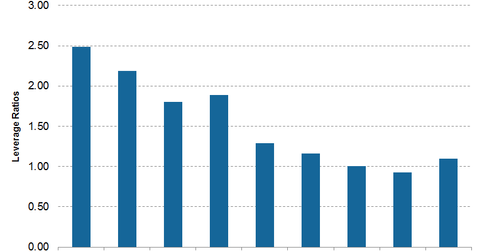 Why Investors Should Be Cautious about United Continental's Debt
By Ally Schmidt

Updated
Strong cash generation
In 1Q16, United Continental (UAL) generated $1.2 billion in operating cash flow and $383 million in free cash flow. UAL's cash totaled $4 billion at the end of 1Q16, significantly lower than the $5 billion at the end of 2015.
Article continues below advertisement
High debt levels
United Continental's high debt has been a concern for investors for a long time. It has also been rated below investment grade for the same reason.
Its total debt-to-EBITDA (earnings before interest, tax, depreciation, and amortization) ratio has declined from 2.38x in 1Q15 to 1.67x in 1Q16. Net debt-to-EBITDA has declined from 1.29x in 1Q15 to 1.10x in 1Q16. However, this is higher than its major industry peers.
Peer comparison
Below are the net debt-to-EBITDA ratios of United Continental's peers at the end of 1Q16:
Delta Air Lines (DAL): 1.1x
American Airlines (AAL): 1.86x
Alaska Air Group (ALK): -0.55x
Southwest Airlines (LUV): -0.05x
JetBlue Airways (JBLU): 0.3x
Spirit Airlines (SAVE): -0.33x
Allegiant Travel: 0.64x
UAL has been repaying debt obligations. That brought its debt level down to $17 billion at the end of 2015. It prepaid $1.2 billion of debt in 2015, and $300 million of that was paid in the fourth quarter.
Article continues below advertisement
Future plans
UAL hopes to reduce its debt to $15 billion in 2016. However, this will still be much higher than most of its industry peers.
UAL's high debt is especially worrisome given its history of bankruptcy, although that was before the merger with Continental Airlines. United Airlines filed for bankruptcy in December 2002 and emerged from it a little over three years later in February 2006. Continental Airlines also filed for bankruptcy in the 1980s.
United Airlines' bankruptcy was triggered by the September 11, 2001, attacks. Two of the four hijacked planes belonged to United Airlines. This, along with high fuel and labor costs, led United Airlines into losses, thus rendering it incapable of servicing its debt. Situations can be difficult and risky in an industry downturn, and debt only amplifies that risk.
UAL forms 2.2% of the PowerShares Dynamic Market ETF (PWC).