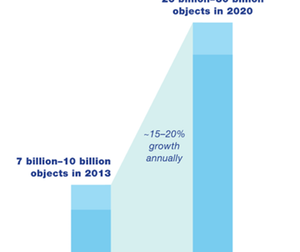 Internet of Things: Growth Opportunity for Semiconductor Industry
By Puja Tayal

Jun. 28 2016, Updated 3:05 p.m. ET
Internet of Things: Industry outlook
In the previous part of this series, we discussed how Broadcom's (AVGO) wireless IoT (Internet of Things) business could help Cypress Semiconductor (CY) deliver a complete embedded solution. What made Cypress buy the IoT business for an all-cash deal?
The all-cash deal was due to the strong growth prospects in this area. Machina Research forecasts that the IoT market could reach $4 trillion by 2025. Software and infrastructure companies would see major benefits. ABI Research forecasts that IoT revenues could represent 28% of semiconductor revenues by 2021.
Article continues below advertisement
An opportunity for the semiconductor industry
Gartner expects that there will be 20.8 billion IoT devices by 2020. IoT devices represent a direct growth opportunity, as every device would be equipped with memory, a microcontroller, wireless connectivity, and sensors. Cypress provides all four components. These components could function together in a SoC (system-on-a-chip) designed specifically for the IoT.
IoT SoCs should consume low power, have high connectivity and sensor integration, and be cost effective. The IoT demand will grow as more companies develop new technologies to make chipsets less costly. According to McKinsey, over the past two years, the price of IoT chipsets fell by ~25% YoY (year-over-year). Reduced prices could boost the demand for the IoT as they did for smartphones.
As the IoT grows, the huge amount of data generated from these devices would need to be collected, increasing the need for data centers and data analytics. This could create an indirect opportunity for semiconductor companies catering to data centers such as Intel (INTC), IBM (IBM), and NVIDIA (NVDA).
Article continues below advertisement
Challenges in IoT
While the IoT provides a strong growth opportunity for the semiconductor industry, the success lies in capitalizing on this trend. To do this, semiconductor companies must design common standards and technologies to facilitate compatibility and usability. The Industrial Internet Consortium was formed to establish interoperability standards to facilitate data transfers across industrial environments.
Connectivity is a major component of the IoT. One IoT device may need to be connected to hundreds or thousands of devices at the same time. The current standards for Wi-Fi, Bluetooth, and Zigbee products are adequate for most IoT applications. However, some applications may require low-power, low-data-rate connectivity across a broader range, which is beyond cellular and Wi-Fi technology. New technologies are being developed to address these needs.
The growth opportunities presented by the IoT have made Cypress a lucrative acquisition target for many. Next, we'll look at possible buyers of Cypress.
The PowerShares QQQ Trust, Series 1 ETF (QQQ) has an 8.4% exposure to semiconductor stocks. It has a 1.1% exposure in AVGO and a 0.47% exposure to NVDA.