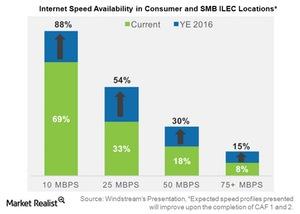 Which Internet Speeds is Windstream Targeting in 2016?
By Ray Sheffer

Updated
Windstream's plan for the consumer and small business space
In the last part of this series, we learned about Windstream Holdings' (WIN) significant cable competition from Charter Communications (CHTR) and Comcast (CMCSA). The merger of Charter, Time Warner Cable (TWC), and Bright House Networks was completed on May 18, 2016. According to Windstream, it does not face competition from national cable players in around half of its SMB (small business) ILEC (incumbent local exchange carrier) footprint.
Article continues below advertisement
At the recent Barclays High Yield Bond & Syndicated Loan Conference, chief financial officer Bob Gunderman stated that "In the less competitive markets, it's been a much less onerous outcome for us in terms of the speed disadvantage, at least initially. But we try to use that to our advantage now to push out many more speed opportunities to give us an upper hand and really the ability to capitalize by bringing in more revenues from our base. And so, when you can bring 50 meg and 75 meg and 100 meg opportunities to those markets, you might get $20 or $30 more a customer if you can up-speed them."
Windstream's planned Internet speeds
As shown in the above figure, the telecom player anticipates Internet speeds above 75 Mbps (megabits per second) in 15% of its consumer and ILEC locations by the end of 2016. Additionally, according to Windstream, 54% of these locations are expected to get 25 Mbps Internet by the end of the same period, and 88% of these locations are expected to get 10 Mbps Internet.
For diversified exposure to stocks of players in the US wireline telecom industry, you could consider the SPDR S&P 500 ETF (SPY). The ETF had a ~2.7% exposure to AT&T (T), Verizon (VZ), CenturyLink (CTL), Level 3 Communications (LVLT), and Frontier Communications (FTR) at the end of May 2016.