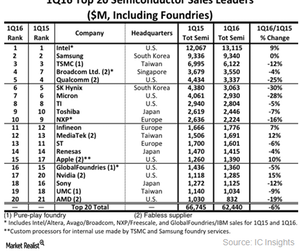 Intel Buckles Up to Retain Its Top Spot in Semiconductor Industry
By Puja Tayal

Updated
Intel is the world's largest semiconductor company
Almost all PCs and servers use Intel (INTC) chips. Incorporated in July 1968, the company started as a memory chip manufacturer and then moved on to make microprocessors for PCs and servers. It became the world's largest semiconductor company by revenue in 1991 and has held that spot since then.
Many other companies such as TSMC (TSM), Qualcomm (QCOM), and Samsung (SSNLF) have come along, but none of them have been able to move Intel from its top spot.
Article continues below advertisement
In the 48 years since the company began, Intel has withstood several downturns and both capitalized on and missed out on revolutionary trends. In 2000, Intel faced a slowdown in demand for high-end processors and watched rival AMD (Advanced Micro Devices) eat up its market share with its low- and mid-end processors. Intel has undergone several restructuring efforts to emerge in times of slowdown and has diversified to generate new revenue streams.
Intel cashed in on the PC revolution and the data center revolution but missed out on the mobile revolution, as it failed to compete with Qualcomm.
Diversification
Presently, Intel is facing a slowdown in demand for PCs and smartphones. Thus, it's looking to diversify into new business streams. Intel's CEO, Brian Krzanich, identified three growth pillars for the company: data center, IoT (Internet of Things), and memory. The company is increasingly focusing its efforts and resources in these growth areas.
In 2015, Intel acquired FPGA (field-programmable gate array) supplier Altera to grow in the above three segments. It's also converting its China (FXI) facility to manufacture memory chips.
Restructuring
Amid the PC slowdown, Intel announced a restructuring program in April 2016, under which it would close some of its factories and lay off 12,000 employees by fiscal 2Q17.
The company also made a cultural change by hiring a top management executive from outside. It hired Venkata "Murthy" Renduchintala from Qualcomm to head its Client & IoT Businesses & Systems Architecture Group. Many believe he's next in line for the CEO position after Brian Krzanich. This has created an exodus effect in the top management with two top executives, Kirk Skaugen and Doug Davis, head of client computing group and IoT group, respectively, resigning after serving the company for long terms.
In this series, we'll look at Intel's business model and the internal and external factors that are affecting the company's business.