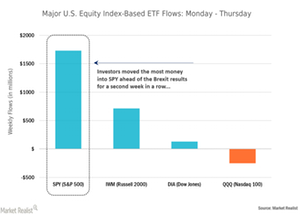 Index ETFs: 'Cheerio, Old Chap,' and 'Hi There, US!'
By Meikel Mokry

Jun. 27 2016, Published 8:57 a.m. ET
Party like it's 1999—but only until Thursday
As the closing bell rang on Thursday afternoon, the atmosphere on trading floors around the world was cheerful as a lark. US equities had been flying higher all week as Brexit polls suggested the Remain camp had a slight edge, and US economic data points came in strong. In response, investors snapped up whatever was hit the hardest during the prior week, hoping for a quick and powerful upside reversal. And they were right—at least until Thursday.
Article continues below advertisement
Leading the "big four" US Index ETFs with a gain of 2.4% was the highly liquid, high-beta, market cap–weighted iShares Russel 2000 ETF (IWM), which closed above the technically important $115 level. Fund flows from Monday to Thursday were also supportive as investors poured ~$700 million into the ETF.
Next in line was the technology-focused PowerShares QQQ Trust (QQQ), which gained 2.1%. However, the march higher was accompanied by ~$250 in outflows. The outflows were perhaps because the ETF excludes financial companies, which bounced back until Thursday. The Financial Select Sector SPDR Fund (XLF) gained the most among GICS sector ETFs. The broad-market SPDR S&P 500 ETF Trust (SPY) and SPDR's Dow Jones Industrial Average ETF Trust (DIA) gained 2.1% and 1.9%, respectively, while also witnessing inflows.
The over-$1.5 billion inflow into SPY (see the chart above) is quite notable. Read on for a possible explanation from a structural ETF perspective.
Isolation from the United Kingdom: SPY Now a Safe-Haven Choice?
Grimmer realities set in on Friday morning as the United Kingdom decided to leave the European Union—an outcome market participants hadn't expected. The resulting volatility across asset classes was brutal. The Cable (GBP/USD) dropped >1,000 pips on the day at its low trading, ~18 standard deviations below its daily average since 1970. European equity markets crashed as Britain's FTSE 100 (UKX Index) tumbled >8.5% at the market's opening, spilling over to the iShares MSCI United Kingdom ETF (EWU), which closed ~12% lower on the day.
Article continues below advertisement
In comparison, Friday's drop in the four major US equity Index ETF's appeared muted. SPY lost 3.6%, DIA tumbled 3.4%, the more volatile small-cap ETF (IWM) fell 3.7%, and the tech-focused QQQ gave up 4.1%. Interestingly enough, however, investors threw almost another $1 billion into the SPDR's S&P 500 ETF Trust (SPY).
The large inflows into SPY might have resulted from SPY's limited European exposure. Only 171 S&P 500 companies reported sales figures from Europe in 2015. Revenues from Europe for companies in the S&P 500 make up only ~6% of total S&P 500 revenues.
Plus, investors outside Europe might be cautious about allocating too much of their capital to European equities going forward. Foreign exchange volatility is likely to stay elevated. The weight of currency and interest rate differential risks of non-hedged overseas investments is very likely to gain importance in portfolio risk models. This new risk mentality has just made US equity ETFs with limited exposure to Europe more appealing, providing a plausible reason for the continued large inflows into SPY.