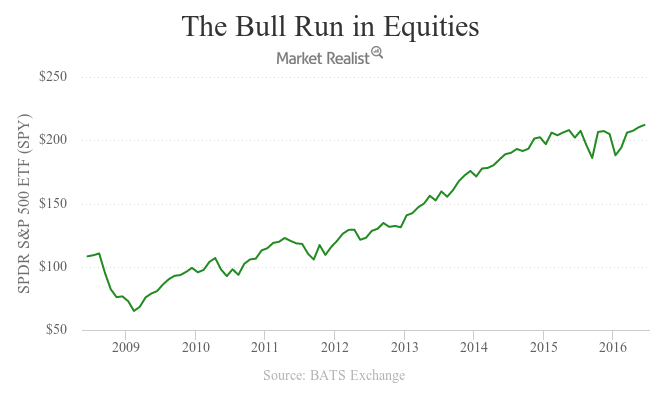 Why Is the PE Ratio Important to a Bull Market?
By David Ashworth

Jun. 14 2016, Updated 5:33 a.m. ET
What's a bull market?
Imagine an angry bull rampaging down a street. When equities are on a tear on Wall Street, the analogy is similar. As a result, the term "bull market" is used. The US stock market (SCHB) (RSP) has been in the bull phase for quite some time. In fact, US stocks (VUG) (IVW) have been in the second-longest bull run in post-war history. Although the gloomy macro environment may not make it seem so, a look at the graph of the SPDR S&P 500 ETF (SPY), which tracks the S&P 500 index (IVV), will depict it plainly.
[marketrealist-chart id=1368211]
Article continues below advertisement
A key feature that characterizes a bull market is rising PE (price-to-earnings) ratios. The PE ratio is also known as the price-to-earnings multiple. It's generally calculated by dividing the current price of a stock by its EPS (earnings per share) over the last 12 months. This is called the "trailing PE ratio" because it considers the EPS in the past year. There's also a forward PE ratio. It uses earnings estimates for the coming four quarters as the denominator.
Why the PE ratio is important 
An assessment of a bull market isn't complete without looking at the companies' PE ratios. Generally, the ratio rises during a bull market as the price (the numerator) starts surging compared to the denominator. This leads to a rise in the PE ratio. The price multiple should rise in order to ensure that we're either heading towards or already in a bull market.
However, there's a school of thought that states that a rise in the PE ratio isn't essential to a bull market. A notable member of that school is Richard Bernstein. In his "Insights" newsletter for June 2016, he presented his thoughts on the subject.
In the next part, we'll start with Bernstein's thoughts on the earnings-driven bull market.