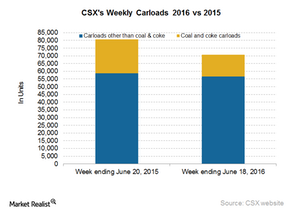 A Huge Fall in Coal Pulls Down CSX Corporation's Carloads
CSX's carloads
CSX Corporation (CSX) is a major operator competing with Norfolk Southern (NSC) in the Eastern United States. In the week ended June 18, 2016, CSX's carloads excluding coal and coke fell by 3.6%, similar to NSC's volumes in the same category.
In all, CSX hauled nearly 71,000 carloads in the reported week, compared to ~81,000 carloads in the week ended June 20, 2015. Note that CSX's 12.5% fall in total railcars was higher than the 8.5% fall reported by US railroad companies in the week ended June 18, 2016.
Article continues below advertisement
Why coal carloads matter
CSX's coal plus coke railcars fell by 36.2% in the week ended June 18, 2016, three times higher than the fall reported by rival NSC in the same category. Note that coal accounted for 16% of CSX's total volumes and 19% of its total revenue in 2015.
According to the U.S. Energy Information Administration, the Appalachia region's coal output is expected to fall by 9% in 2016, though the agency expects its total coal production to rise by 2% and stabilize in 2017. CSX mainly connects coal mining operations in the Appalachian mountain region.
Eastern railroads have cited electricity generation plants' shifting from coal to natural gas (UNG) as one reason for the fall in utility coal transportation. The coal tsunami has affected major coal producers in the United States such as Alliance Resource Partners (ARLP), Consol Energy (CNX), and Peabody Energy (BTU). Due to the sharp fall in coal prices, Peabody filed for Chapter 11 bankruptcy protection in the United States on April 13, 2016.
Commodity bulls and bears
The commodities that posted major gains for CSX in the week ended June 18, 2016, were as follows:
crushed stone, sand, and gravel
stone, clay, and glass products
motor vehicles and parts
The main bear commodity groups for CSX were grain, farm products excluding grain, iron and steel scrap, petroleum and petroleum products, and metallic ores.
You can compare this week's rail data with the previous week's by reading A Mixed Delivery for North American Railways.
Intermodal volumes have witnessed a bumpy ride in the last few quarters for all Class I railroad companies. We'll look at CSX's intermodal traffic in the next article.
For more information on major US railroad stocks, visit Market Realist's Railroads page.