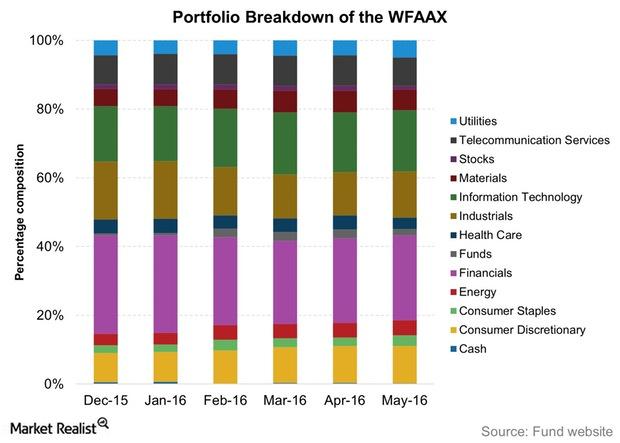 How Is Wells Fargo Asia Pacific Fund Allocating Its Portfolio?
By David Ashworth

Nov. 20 2020, Updated 11:08 a.m. ET
Wells Fargo Asia Pacific Fund overview
The Wells Fargo Asia Pacific Fund invests 80% of its assets in stocks of companies located in the Asia-Pacific Basin. The fund house considers Australia, China, Hong Kong, India, Indonesia, Japan, Malaysia, New Zealand, Pakistan, the Philippines, Singapore, South Korea, Taiwan, Thailand, and Vietnam, among others, to be part of this region.
While shortlisting companies for investment, the fund looks at "the potential for above-average sales and earnings growth, overall financial strength, competitive advantages, and capable management." The fund makes use of both, top-down and bottom-up research while picking stocks for the portfolio. It invests across market caps and looks for both growth and value stocks. The fund's assets were spread across 116 holdings as of May 2016, and it was managing assets worth $143.4 million at the end of May. As of April, its equity holdings included FUJIFILM Holdings (FUJIY), Panasonic (PCRFY), KB Financial (KB), China Petroleum & Chemical (SNP), and Japan Airlines (JAPS).
Article continues below advertisement
Portfolio changes in the Wells Fargo Asia Pacific Fund
Financials has the most weight in the fund, forming nearly a quarter of the portfolio. Information technology is second, followed by industrials in the third position. These three sectors combined form 55% of the fund's assets.
Compared to the MSCI All Country Asia Pacific Index (Net), the WFAAX is underweight in the financial, consumer discretionary, consumer staples, and health care sectors while being overweight in the information technology, telecom services, utilities, and energy sectors. Japanese stocks form 28% of the portfolio. China forms 22% of the assets while South Korean stocks are a distant third at 9%. Taiwanese and Indian stocks have the 4th and 5th highest weights in the fund.
Though financials enjoy the top sectoral position, exposure to the sector has fallen compared to a year ago. While discretionary stocks have seen an increase in weight, staples stocks have seen a decline in the same period. But the sharpest change in portfolio weight was in the industrials sector. The sector used to form close to a quarter of the fund's assets a year ago, but now it only forms 13.4% of the assets.
With this portfolio positioning, how has the Wells Fargo Asia Pacific Fund – Class A (WFAAX) fared in 2016? Let's look at that in the next article.