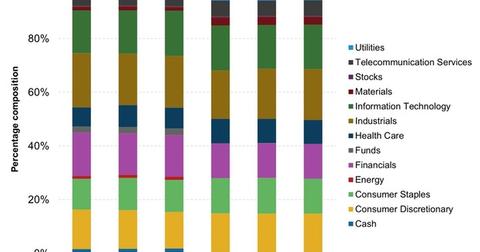 How Is the Invesco Pacific Growth Fund Allocating Its Portfolio?
By David Ashworth

Updated
Invesco Pacific Growth Fund overview
The Invesco Pacific Growth Fund invests 80% of its assets in stocks of companies located in the Pacific region. It focuses on equity and depositary receipts. Among equity instruments, it generally invests in common and preferred stocks. Fund managers focus on growth companies.
Though the fund can invest across market caps, a significant portion of its assets can be invested in small-cap and mid-cap stocks. Historically, the fund has not hedged its currency exposure, but its fund managers can choose to do so if they deem it necessary. Two investment teams work on managing the fund's portfolio. One exclusively focuses on Japan while the other looks at the rest of the Asia-Pacific region. The fund employs both top down and bottom up approaches.
Article continues below advertisement
The fund's assets 
were spread
 across 58 holdings as of May 
2016,
 and it was managing assets worth $80.6 million at the end of May. As of May, its equity holdings included Taiwan Semiconductor Manufacturing (TSM), Tencent Holdings (TCEHY), Nidec (NJ), Astellas Pharma (ALPMY), and China Mobile Limited (CHL).
Portfolio changes in the Invesco Pacific Growth Fund
TGRAX is quite balanced as far as allocation in its top three sectors is concerned. Industrials, information technology, and consumer discretionary, in that order, command 15%-18% of the portfolio each. Combined, they form 49% of the assets. The fund isn't invested in the energy sector.
Japan is the most invested nation with 42% of the fund's assets invested in stocks from the country. South Korea is a distant second, followed by China. Australia and Hong Kong round off the top five countries with the highest weight.
Financials was the fund's largest sector in May 2015. However, at present, it doesn't even find a place in the fund's top three sectors. Among consumer-focused sectors, discretionary stocks form less of the portfolio now than they did a year ago. Meanwhile, staples form more. The fund's exposure to health care, industrials, utilities, and information technology stocks has risen compared to a year ago. Energy stocks were a part of the portfolio until February, after which they were completely liquidated.
With this portfolio positioning, how has the Invesco Pacific Growth Fund – Class A (TGRAX) fared in 2016 YTD? Let's look at that in the next article.