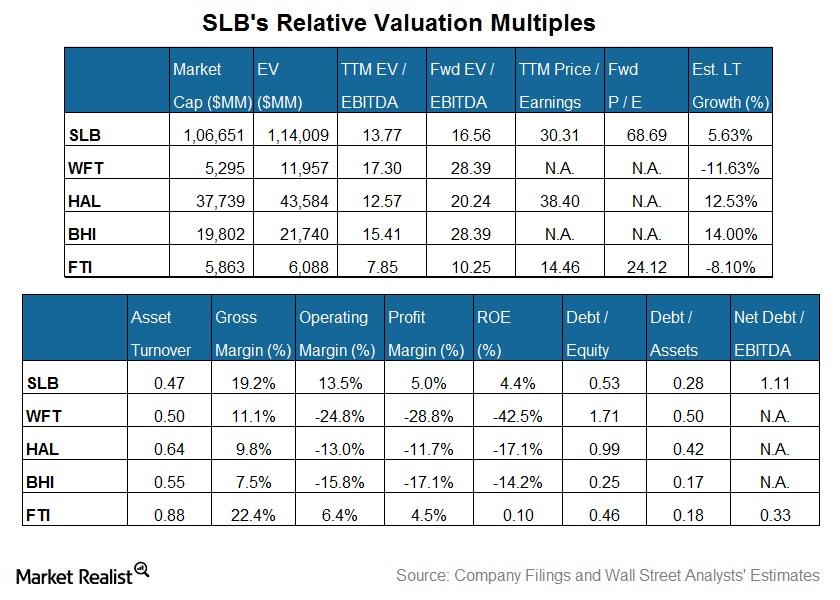 How Is SLB's Current Valuation Compared to Peers?
By Alex Chamberlin

Dec. 4 2020, Updated 10:52 a.m. ET
Comparable company analysis
In this series, we're looking at how the UK's decision to opt out of the European Union has affected Schlumberger's valuation relative to its peers. As you can see in the table below, Schlumberger (SLB) is the largest company by market capitalization among our set of select oilfield services & equipment (or OFS) companies here. Weatherford International (WFT) is the smallest of the lot by market capitalization.
Article continues below advertisement
EV-to-EBITDA
Schlumberger's EV (approximately the sum of its equity value and net debt) when scaled by trailing-12-month (or TTM) adjusted EBITDA is nearly on par with the peer average in the group. Adjusted EBITDA excludes extraordinary charges like goodwill and asset impairment. FMC Technologies' (FTI) TTM EV/EBITDA is the lowest in our group. Schlumberger makes up 1.2% of the iShares S&P 500 Value ETF (IVE). The energy sector makes up 13.2% of IVE.
Forward EV-to-EBITDA is a useful metric to gauge relative valuation. SLB's forward EV-to-EBITDA multiple expansion versus its adjusted TTM EV-to-EBITDA is lower than the peer average in our group here. This is because the expected drop in SLB's adjusted operating earnings in fiscal 2016 is less extreme compared to those of its peers. This should typically reflect in an EV-to-EBITDA multiple premium. So, SLB could be undervalued at this level compared to its peers.
Article continues below advertisement
Debt levels
Schlumberger's debt-to-equity multiple (or leverage) is lower than the peer average. A lower multiple could indicate a decreased level of credit riskiness. This is comforting, particularly when crude oil prices are volatile. Baker Hughes's (BHI) leverage is the lowest in our group. For a comparative analysis of the top OFS mid-cap companies, read Market Realist's article on The 4 Oilfield Service Giants: Which Ones Stand the Tallest?
Price-to-earnings ratio
Schlumberger's forward PE (price-to-earnings) multiple reflects analysts' expectation of lower earnings in the next four quarters. Analysts expect many of its peers in our select set to post negative earnings in the next four quarters. Analysts also expect SLB's earnings to increase ~6% in the next three to five years, which could boost SLB's valuation in the medium to long term.
Has SLB's current valuation changed?
In the past one month, Schlumberger's valuation, expressed as a PE multiple and EV/EBITDA multiple, hasn't changed much despite the Brexit fears. This shows that Schlumberger is a resilient stock even when markets are volatile.
Next, we'll discuss short interest for Schlumberger versus other OFS companies.