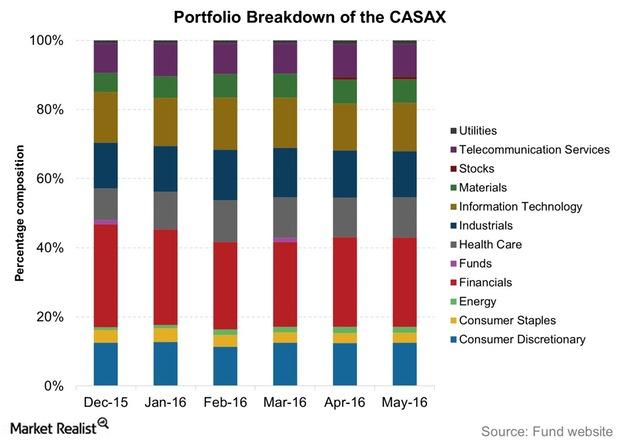 How Does the Columbia Pacific/Asia Fund Allocate Its Portfolio?
By David Ashworth

Jun. 29 2016, Updated 4:45 p.m. ET
Columbia Pacific/Asia Fund overview
The Columbia Pacific/Asia Fund invests 80% of its assets in stocks and bonds of companies located in Asia and the Pacific Basin, which includes Australia, New Zealand, India, and other countries within this region. Apart from common stocks, the fund can invest in companies from the region via depositary receipts, preferred stocks, and convertible securities as well.
Fund management doesn't pre-decide on allocating a certain portion of its assets in securities from a particular country, industry, or sector. However, the financial services sector forms a sizable portion of its assets, and the fund retains the flexibility of being focused on this or any other sector. Fund management doesn't have a growth or value bias. The fund's assets were spread across 88 issues as of May 2016, and it was managing assets worth $224 million. As of May, its equity holdings included Sony (SNE), ORIX (IX), Westpac Banking (WBK), Toyota Motor Corporation (TM), and Rio Tinto (RIO).
Article continues below advertisement
Portfolio changes in the Columbia Pacific/Asia Fund
As stated above, financials form the biggest portion of the CASAX sector-wise. The sector forms over a quarter of the portfolio. Information technology is a distant second, followed by industrials. The three sectors form a combined 54% of the fund's assets.
The fund's sectoral composition is broadly similar to the MSCI AC Asia Pacific Index with the exception of the health care, telecom services, consumer staples, energy, and utilities sectors. While the fund is overweight in the healthcare and telecom services sectors, it's underweight in the others mentioned above. Japanese stocks form 46% of the portfolio, followed by China with 14.6% of the assets. Australia, India, and Korea round off the top five countries with the highest weights.
Even though financials continue to enjoy the top spot as far as sectoral composition is concerned, allocation to stocks from the sector is down from 31% a year ago. In the 12-month period until May, the exposure to health care and industrials, among other sectors, has risen while financials have continued to form less of the portfolio.
With this portfolio positioning, how has the Columbia Pacific/Asia Fund – Class A (CASAX) fared YTD in 2016 and why? Let's look at that in the next article.