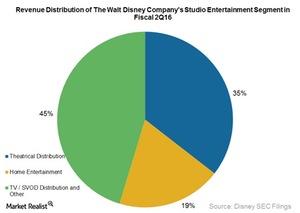 How Comcast Intends to Implement Its Franchise-Focused Strategy
Implementing the franchise-focused strategy
In the previous part of this series, we looked at how Comcast (CMCSA) intends to follow a franchise-focused strategy similar to that of Walt Disney (DIS). In this part of the series, we'll look at how Comcast intends to implement the strategy.
Comcast stated at the Guggenheim Securities TMT Symposium in New York this month that its animation studio, Illumination Entertainment, has two animated movies that are set to be released this year including Secret Life of Pets and Sing. Comcast's Illumination Entertainment is headed by Chris Meledandri and is expected to be "creatively" responsible for DreamWorks Animation (DWA) after the acquisition is complete.
Article continues below advertisement
Comcast also indicated that it's looking to produce more than two animated movies each year with its proposed acquisition of DreamWorks and its Illumination Studios. The company also expects that increasing the number of animated movies will help it to advance its "consumer products agenda." As a part of this strategy, Comcast expects to resurrect DreamWorks' Shrek franchise.
Comcast's proposed acquisition of DreamWorks would also give the company a strong presence when it comes to animation on television. Early this year, DreamWorks entered into a streaming deal with Netflix (NFLX). As a part of this deal, Netflix would have the global streaming rights, except for China, to DreamWorks' film library and also to DreamWorks' original programming.
DreamWorks deal could pit Comcast against Disney
Disney entered into a distribution agreement with DreamWorks Animation in August 2009. Under the terms of the agreement, Disney will distribute live-action movies produced by DreamWorks Animation under the Touchstone Pictures banner for a period of seven years. This agreement could be up for renewal this year. Considering Comcast's acquisition of DreamWorks Animation, Comcast's Universal Pictures could be interested in distributing DreamWorks Animation's live-action movies rather than allowing Disney to distribute them.
As the chart above indicates, theatrical distribution and TV/SVoD (subscription video on demand) distribution were the biggest contributors to Disney's studio entertainment segment. These businesses' revenues were $732 million and $934 million, respectively, in fiscal 2Q16.
Comcast makes up 0.85% of the SPDR S&P 500 ETF (SPY). SPY also has 3.5% exposure to the computers sector.