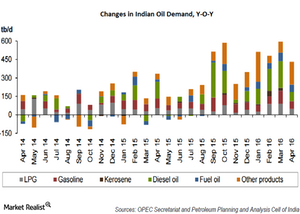 How China, India, and South Korea Are Driving Crude Oil Demand
By Gordon Kristopher

Jun. 29 2016, Published 12:35 p.m. ET
Bullish drivers for crude oil demand   
In this part of the series, we'll look at why Asian economies like China and India are important for crude oil prices over the long term.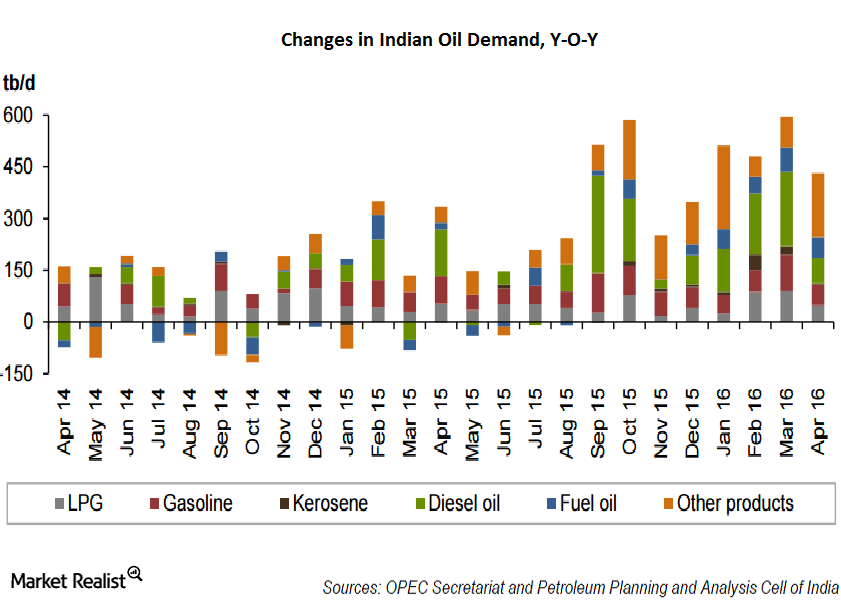 Article continues below advertisement
Bullish catalysts for crude oil prices  
The latest BP statistical review report highlighted that India is the third-largest consumer of crude oil, after the United States and China. It displaced Japan for third place. Japan consumed 4.15 MMbpd of crude oil in 2015. India consumed 4.2 MMbpd of crude oil in 2015. India's crude oil demand rose by 0.4 MMbpd (million barrels per day) in April 2016 from last year, according to India's Petroleum, Planning, and Analysis Cell. It's 10% higher year-over-year. India's crude oil consumption averaged around the historic peak of 4.6 MMbpd in April 2016. Demand for fuel oil and gasoline rose 29% and 12% year-over-year, respectively. To learn more, read India's Crude Oil Demand Will Likely Drive the Crude Oil Market.
Industry surveys project that China's crude oil demand will average 7.4 MMbpd over the next six months due to demand from teapot refineries. Slowing Chinese crude oil production will also add to imports. The EIA (U.S. Energy Information Administration) estimates that China is planning to build 500 MMbbls (million barrels) of strategic crude oil reserve space by 2020. This change will also add to imports.
South Korea's crude oil imports rose to 90.7 MMbbls in May 2016—compared to 89.7 MMbbls in April 2016.
December 2020 West Texas Intermediate crude oil futures contracts were trading at $55.22 per barrel on June 29, 2016. The forward curve suggests higher crude oil prices in the future.
Goldman Sachs estimates that the global oversupply of crude oil will diminish in 2016. Read Will Crude Oil's Supply and Demand Balance Narrow or Widen? to learn more. 
Impact on energy stocks and ETFs 
The roller coaster ride in crude oil prices impacts oil and gas exploration and production companies like Synergy Resources (SYRG), Triangle Petroleum (TPLM), and Northern Oil & Gas (NOG). It also impacts ETFs and ETNs like the ProShares UltraShort Bloomberg Crude Oil ETF (SCO), the United States Brent Oil ETF (BNO), and the ProShares Ultra Bloomberg Crude Oil (UCO).
In the next part of this series, we'll look at some key bearish drivers for crude oil prices.