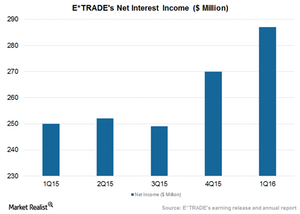 How Brokerage Firms Are Managing Fee-Based Assets
By Robert Karr

Updated
Managing assets
Charles Schwab (SCHW) is expanding its asset base through third-party investment advisors as well as new initiatives. As of March 31, 2016, Windhaven Investment Management, an affiliate of Charles Schwab, managed client assets totaling $11.1 billion, a fall of 29% from 1Q15. ThomasPartners expanded its client base by 10% to $7.8 billion.
Client assets managed under intelligent portfolios like Schwab Intelligent Portfolios and Institutional Intelligent Portfolios rose to $6.6 billion compared to $5.3 billion in the previous quarter.
Article continues below advertisement
Charles Schwab has also expanded its offering called ETF OneSource. It now offers five more ETFs, translating to 225 ETFs across 66 categories of Morningstar. The company charges fees rather than commissions on these investments. The company's Schwab Index Advantage offers 130 plans, and 90,000 clients have signed up for the ETF or index mutual fund versions.
Strong capital adequacy
As of March 31, 2016, E*TRADE (ETFC) reported bank and consolidated Tier 1 leverage ratios under the Basel III Standardized Approach of 8.6% and 7.8%, respectively. In the previous quarter, it reported bank and consolidated Tier 1 leverage ratios of 9.7% and 9.0%, respectively.
The company ended the quarter with corporate cash at $482 million, up by $35 million from the prior quarter and well above the company's target of maintaining $100 million.
E*TRADE is gradually moving its clients' deposits held in third-party banks to its own bank. With its new sweep platform, E*TRADE can move deposits on and off of its balance sheet at a faster pace.
Organic expansion
TD Ameritrade (AMTD) posted strong organic growth in fiscal 2Q16. Trends for asset gathering, trading, and fee-based assets were strong. The company is riding on momentum from attractive product offerings, good service, and an effective multichannel sales and service model. These offerings are producing strong organic growth and building long-term earning power.
Here's how a few brokerage companies (XLF) fared in terms of net profit margins:
Interactive Brokers Group (IBKR): 41.1%
E*TRADE: 16.2%
Charles Schwab: 21.5%
Now, let's study how brokers (XLF) are maintaining margins amid competition.