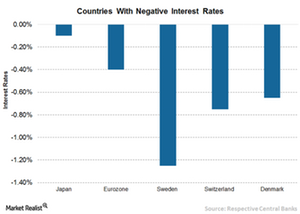 Why Gold Should Thrive in Post-Brexit-Low-Interest-Rate Scenario
By Anuradha Garg

Jun. 28 2016, Published 10:13 a.m. ET
Central banks' accommodative policy
With the Brexit vote in, central bankers around the world will most likely follow loose monetary policies. Most Market participants believe this economic shock will make it more difficult for the Fed to raise interest rates in 2016 and even in early 2017. The Bank of England could cut policy rates to zero, while the ECB (European Central Bank) could inject more liquidity into the system. This follows the already existing accommodative policies.
Article continues below advertisement
When buying bonds and cutting interest rates to zero didn't work for central banks, they're now testing more unconventional ways such as NIRP (negative interest rate policy). Under NIRP, people are charged on their deposits with banks, and banks are charged for their deposits with the central bank. This dissuades idle cash balances, encourages lending, and artificially boosts demand.
Going subzero
The ECB, Denmark, Switzerland, Sweden, and Japan (EWJ) have implemented NIRP. Fed chair Janet Yellen, however, said that while the Fed has the legal authority to engage in negative rates, she doesn't see it as a short-term possibility in the United States (QQQ).
This policy hasn't yielded anything substantial in terms of higher growth yet. But it's eroding people's confidence in central banks and their ability to control the situation. This is another reason some people are investing in gold; it doesn't have a counterparty risk.
Implications for gold investors
Investors would rather park their money in precious metals and precious metal–based funds than pay a yield for their investments. Precious metals are famous for their safe-haven appeal and their ability to provide security in uncertain times.
In Japan, gold is in strong demand due to negative interest rates. Investors are not willing to invest in bonds at negative yields. This is also the case for other countries such as Germany with negative interest rates. To counter negative interest rates, Germany's reinsurer Munich Re has boosted its gold and cash reserves. If this scenario continues, it should support gold and gold equities such as B2Gold (BTG), Gold Fields (GFI), and New Gold (NGD).