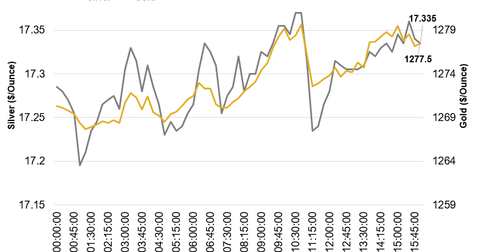 Gold Gains from Global Sell-Off on Friday, June 10
By Val Kensington

Updated
Gold rises to three-week high
Gold rose to three-week high price levels on Friday as the demand for the safe haven assets increased on Friday, June 10, amid a global sell-off. The COMEX gold futures contract for August delivery was trading at $1,277.95 per ounce, a gain of 0.42%. Silver was trading at $17.32 per ounce, a gain of 0.3%.
Gold gained for the third consecutive trading day due to the increasing global instability and the decreased chances of a US interest rate hike in the near term.
Article continues below advertisement
Increased demand for a safe-haven investment
The sell-off in the European markets on Friday ahead of the highly anticipated Brexit vote, increased global uncertainty, as well as the demand for safe-haven assets like gold. On Friday, the bond yields of Japan, the UK, and Germany dropped to fresh all-time lows and supported gold prices.
Although the US dollar regained some of its strength on Friday, it was relatively stronger at three-week high price levels. The stronger dollar generally keeps the pressure on dollar-denominated commodities like gold, crude oil, and copper.
Market awaits major economic events
The Market is keenly waiting for several major economic events scheduled in the near term. These include the FOMC meeting, which starts on June 14; the Bank of Japan meeting, which starts on June 15; and the Brexit vote, which occurs on June 23. The outcome of these events has the potential to move gold prices with increased volatility.
For analysis on the relationship between interest rates and gold, please read Why Gold Is Closely Tied to Interest Rates.
At 2:54 PM EDT, precious metal producers Barrick Gold (ABX), Newmont Mining (NEM), Royal Gold (RGLD), and Silver Wheaton (SLW) fell by 0.08%, 0.53%, ~1.8%, and 0.81%, respectively. The SPDR Gold Trust ETF (GLD) gained 0.6%.
The final article in this series explains Friday's performance of stocks related to metals and mining.