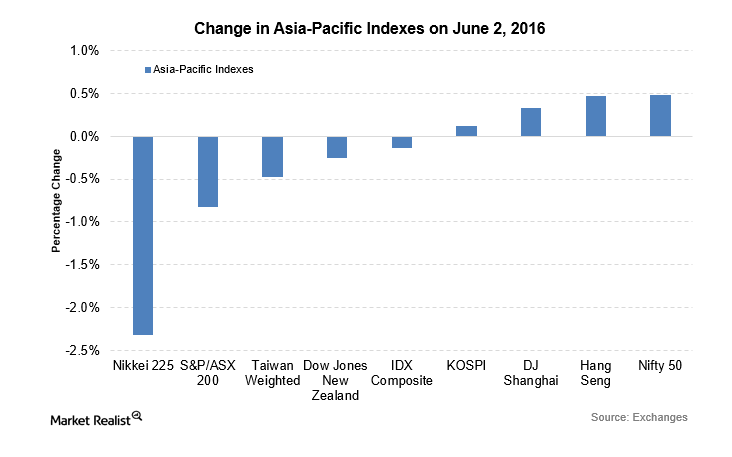 Why Did the ECB Set Inflation Expectations Higher?
European indexes mixed after ECB policy
Major European indexes (DBEU) were trading range-bound on June 2, 2016. This came after the ECB (European Central Bank) kept rates unchanged and the UK construction PMI (Purchasing Managers' Index) fell to a three-year low.
The SPDR Euro Stoxx 50 ETF (FEZ) traded near flat with a slight fall of 0.06% on June 2. The German DAX and the French CAC 40 were also trading on a contrasting note. DAX rose by 0.03%, and CAC fell by 0.21%.
Non-Eurozone markets also had similar results. The United Kingdom's (FKU) FTSE 100 fell by 0.10%. Sweden's (EWD) OMX Stockholm 30 rose by 0.18%. The Russian (RSX) MICEX was also trading on a flat note with a slight fall of 0.13%.
Article continues below advertisement
Major Asian indexes mixed ahead of ECB
Critical Asian indexes (AAXJ) were on a mixed bias on June 2, 2016, ahead of the ECB's monetary policy release. The Chinese (MCHI) DJ Shanghai Index bucked the negative trend and rose by 0.33%.
The Japanese (DXJ) Nikkei 225 led the fall in Asian indexes and fell a significant 2.3%, adding to the losses on the previous day. The iShares MSCI India ETF (INDA) led the positive movement in Asian indexes. It rose by 0.48%.
Looking at the performances of the Oceania indexes, the Australian (EWA) S&P/ASX 200 fell by 0.83%. The Dow Jones New Zealand (VPL) was trading 0.25% lower.
US markets trading higher
Let's look now at how the US broad-based indexes fared on June 2, 2016. The S&P 500 VIX Index rose 0.88%. The S&P 500 Index and the NASDAQ composite rose 0.28% and 0.39%, respectively. The Dow Jones Industrial Average also posted a decent gain and rose 0.27%.
In the next part, we'll look at the US jobs report and the sector-based performance of the SPDRs on June 2, 2016.