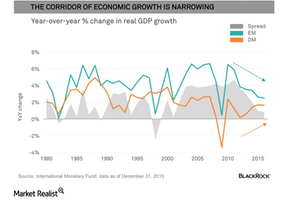 Global Economy Stuck in the Doldrums
By Rick Rieder

Updated
Rick Rieder shares a chart showing why we should get used to living in a low-growth world.
Global growth appeared to sputter earlier this year, roiling markets. However, investors should get used to living in a moderate growth world. I see low global growth persisting for a while, with economic growth overall settling into a narrower corridor in the years ahead. This is evident in the chart below.
Article continues below advertisement
Market Realist – Global economy stuck in the doldrums
Over the past six decades, the world economy (EFA) has expanded at a rapid pace. The average global growth rate was 3.8% from 1950–2014. The higher growth was mainly driven by rapid population growth and a sharp rise in labor productivity. However, post-recession global growth has faltered to an average growth of just around 3%.
Economic and political concerns
A combination of factors are responsible for slower global growth. In the medium term, a sharp slowdown in China (FXI) had strong international implications through a decline in oil and other commodity prices. This is affecting the trade patterns with many countries because China is one of the largest economies in the world.
In the Eurozone (IEV), weak finances of member countries, low investment, a high unemployment rate, and a huge refugee influx weighed on growth. Japan (EWJ) has witnessed weaker growth and lower inflation due to a sharp fall in private consumption. Similarly, the US (IVV) economic recovery is too slow and is facing significant headwinds such as a strong dollar and weaker manufacturing.
Article continues below advertisement
Structural issues
In the long run, structural issues such as a weakening demographic advantage, a decline in labor supply, and the aging population are affecting growth in many developed countries. These headwinds are likely to affect global economic growth for the foreseeable future.
Growth projected to slow
The IMF (International Monetary Fund) estimates that advanced countries should grow at a modest rate of about 2% in the next few years. In the long run, the McKinsey Global Institute estimates average global growth to decline to 2.1% from 2014–2064, far lower than the growth in the previous 50 years.