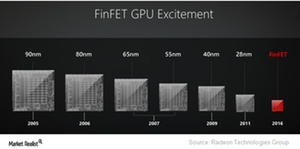 Get Ready for Advanced Micro Devices' First Polaris GPU
By Puja Tayal

Updated
AMD set to launch its first Polaris GPU
The war among tech titans could get fierce in July 2016 as Advanced Micro Devices (AMD) prepares to launch its first Polaris GPU (graphics processing unit) "Radeon RX 480" on June 29, 2016. AMD's Polaris will likely give tough competition to NVIDIA's (NVDA) recently launched Pascal-based GTX 1080 and 1070.
What's even more surprising is that AMD plans to price the Radeon RX 480 at $199, according to a report from The Wall Street Journal, while NVIDIA has priced its GTX 1080 and 1070 at $599 and $379, respectively.
For those who are new to the GPU world, as a common practice, companies launch high-end GPUs at a higher price, which is generally above $500. AMD claims that its Radeon RX 480 would offer a similar performance as a $500 GPU but at a jaw-dropping price of $199.
Article continues below advertisement
What is so unique about Polaris?
AMD's Polaris and NVIDIA's Pascal are a class apart as they are two generations ahead of other GPUs available in the market. Until now GPUs were built on 28 nm (nanometer) process node. Pascal is built on TSMC's (TSM) 16 nm FinFET (fin-shaped field effect transistor) technology, and Polaris is on Samsung's (SSNLF) and GlobalFoundries' 14 nm FinFET technology.
The shrinking node improves performance and power efficiency and reduces the cost of production. The shift to FinFET has made Pascal and Polaris the most advanced graphics processors. These GPUs support VR (virtual reality).
Notably, the iShares Russell 1000 Value ETF (IWD) has holdings in large-cap US equities across various sectors. IWD has 0.25% exposure to NVDA.
Relation between VR and GPUs 
VR is slowly gaining pace in the gaming world. However, a VR headset alone is not sufficient to get the VR experience. Users have to upgrade their PCs with VR-ready GPUs, which cost more than $500, or upgrade their entire PC, which costs more than $1,000.
According to an online survey by the Advanced Imaging Society, 68% of survey respondents find VR expensive. AMD is looking to bring VR to mainstream customers by making it more affordable with its $199 GPU. This would reduce the price of a VR-ready PC to as low as $799.
But what does AMD plan to offer in this $199 GPU? Can it truly match the performance of a $500 GPU? We'll answer these questions in the next part of the series.