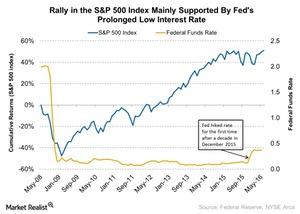 Why George Soros Has a Bearish Outlook
By Sarah Sands

Jun. 13 2016, Updated 8:32 a.m. ET
George Soros's recent steps
Billionaire investor George Soros spoke about his current outlook on the global economy (ACWI) (VTI) on Thursday, June 9, 2016. He focused on the Asian economy, particularly China (FXI) (ASHR).
George Soros, who has made a $24 billion fortune from his market bets (QQQ) (VOO), is now turning bearish on the markets. The 85-year-old billionaire investor is expecting high risk due to market shifts. He believes that the rally in recent years was an artificial rally, boosted by the Fed's persistently low interest rate.
Article continues below advertisement
How the central bank's policy is playing a major role in market movements
From the above graph, we can see that after the sub-prime crisis in 2008, the central bank reduced its key interest rate to near zero levels. Since January 2009, the S&P 500 Index (SPY) rallied nearly 156% as of May 2016. The interest rate has stayed at near-zero levels during this period. However, the Fed hiked the interest rate for the first time after a decade by 25 basis points in December 2015. After this event, the market saw a huge sell-off in January 2016. The S&P 500 Index fell 5% that month.
The expectation of a further interest rate hike rose in February 2016, which resulted in a massive fall in both the equity and commodity (DBC) markets in February 2016. The Federal Reserve policymakers already announced that they are aiming for two or three hikes this year. If the interest rate increases in the near future, then we could see large market shifts. We could see a scenario where the emerging economies will witness an outflow of money while the US dollar index (UUP) will witness an inflow. The slowing global growth and the threats coming from China's (YINN) (ASHR) debt-fueled economy are increasing the risk of global uncertainties.
On Thursday, June 2, 2016, Bill Gross, another prominent investor, said on CNBC, "The markets are entirely different and it would pay to travel to Mars as opposed to stay on Earth, because the returns here are very, very low." He advised investors to be ready for an "entirely different" market in his June investment outlook.
In the next part of this series, we'll analyze George Soros's outlook on the global economy.