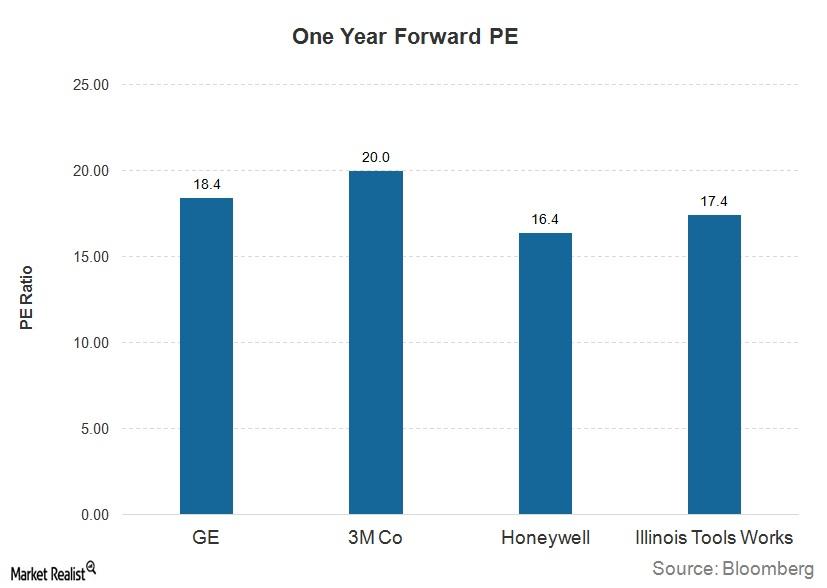 Is General Electric Attractively Valued?
Valuation of General Electric
As a large industrial conglomerate, GE's performance relates to the performance of the macroeconomy. So you could say it's cyclical in nature. The company's earnings are both positively and negatively impacted in different business environments. Its earnings are good indicators of its business value. That's why industrial stocks are generally valued on the basis of their earnings per share.
Shares of General Electric (GE) currently trade at a price-to-earnings value of 29.6x (12-month trailing earnings). This valuation isn't cheap compared to GE's peers and the industrial sector. The average price-to-earnings multiple for industrials companies in XLI is 15.68x.
GE's large-capitalization peers 3M (MMM), Honeywell (HON), and Illinois Tools Works (ITW) are currently trading at price-to-earnings multiples of 21.5x, 16.8x, and 18.9x, respectively.
But if you compare GE's one-year forward earnings, you find that it's trading at 18.1 (20.4 last quarter). In comparison, 3M, Honeywell, and Illinois Tool are trading at 20.0x, 16.4x, and 17.4x, respectively.
Article continues below advertisement
GE is nearly at par with its peers. GE's business model is difficult to replicate since it has specific entry barriers. First mover advantage and technology are the key differentiators compared to its peers, giving GE a major competitive advantage. GE, a large industrial conglomerate, currently trades at par valuations compared to its peers—unlike last quarter. With a robust EPS outlook for fiscal 2016, GE is attractively placed among industrial conglomerates.
Investors interested in trading industrials can look into the Fidelity MSCI Industrials Index ETF (FIDU) and the iShares Morning Star Large-Cap Value ETF (JKF).
In the next part of this series, we'll cover analyst recommendations for GE.