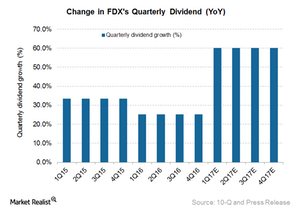 Could FedEx's Stock Buyback Drive Continue in Fiscal 2017?
By Samuel Prince

Updated
FedEx's stock buyback
In the previous part of this series, we reviewed FedEx's (FDX) expectations for fiscal 2017. In this part, we'll look into FDX's returns to shareholders. Usually, companies reward shareowners with share repurchases and dividends. When an industry is moving upwards, companies usually retain cash to reinvest in the business. Such companies may not suit dividend investors' objectives.
Article continues below advertisement
FedEx's quarterly dividends
FedEx paid a quarterly cash dividend of $0.15 per share in 2014, which was raised to $0.20 per share in fiscal 2015. This translates into a dividend growth of 25% in fiscal 2015, compared with 33.3% in fiscal 2014. In fiscal 2016, FDX paid a quarterly dividend of $0.25 per share.
In the first week of June 2016, the company announced a rise of 60% in its quarterly dividends in fiscal 2017, taking the per share dividend to $0.40. This is a forward dividend yield of just 1%, much less than UPS's (UPS) forward dividend yield of ~3%.
In FDX's US peer group, Old Dominion Freight Line (ODFL) and XPO Logistics (XPO) don't pay equity dividends. In the international peer group, Yamato Holdings (YATRY) has a forward dividend yield of 1.2%, Deutsche Post (DPSGY) has a dividend yield of 3.3%, and Singapore Post (SPSTY) has a dividend yield of 3.6%.
FedEx makes up 2.3% of the portfolio holdings of the Industrial Select Sector SPDR ETF (XLI). Major US airlines and railroads make up 11.6% and 7.7% respectively, of its portfolio.
FDX's stock buybacks
FDX has been repurchasing shares over the last couple of years. According to the company, it repurchased 63.0 million shares amounting to over $8.8 billion in the last two fiscals ending 2016. The company's remaining 19.0 million share repurchase represents 7% of the current outstanding equity shares. In 2016 alone, FDX repurchased $2.7 billion of common stock.
Share repurchase is a way of giving back value to stock owners. However, if companies indulge in buybacks through raising debts, then it is not a welcome step. As it raises interest expenses, it reduces possible EPS (earnings per share). In its 2014 annual report, FDX clearly mentioned that the stock buybacks had a modest favorable impact on EPS. In the last part of this series, we'll take a look at where the company's valuation stands in its peer group.