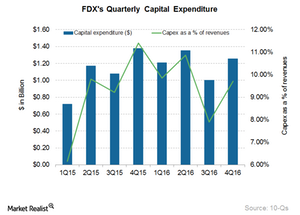 FedEx's Capital Expenditure: What's Expected for Fiscal 2017?
By Samuel Prince

Jul. 8 2016, Updated 1:04 a.m. ET
FedEx's capital expenditure
In the previous part of this series, we reviewed FedEx's (FDX) overall and segmental operating margins. In this part, we'll review the company's spending on capital assets and plans for fiscal 2017. The express service business model requires a huge amount of capital.
Article continues below advertisement
FedEx's aircraft fleet
The company's overall aircraft fleet has been reduced from 650 in 2014 to 643 in 2016. The company is expecting delivery of 12 Boeing (BA) 767Fs in fiscal 2017. However, there are 16 Boeing MD10s and MD11s set for lease expiry or retirement that year. which will reduce FDX's fleet further, to 639.
Outlook on capital spending
Overall, FedEx anticipates capital spending of $5.1 billion in fiscal 2017, excluding TNT Express capital investments. The company expects $2.0 billion in capital expenditure for the FedEx Ground segment. This will be used for facility expansion and equipment acquisition.
Investment in TNT Express is not included in the forecast provided by the company. The company's desired line of capital expenditure is 6% to 8%. However, with the re-fleeting exercise undertaken by FDX, along with the TNT integration, the company expects higher spending on capital assets in the years to come. FedEx expects a fiscal 2017 integration capital investment of $100.0 million for the TNT integration, in addition to $200.0 million in integration expenses.
Peer group capital spending 
FedEx has to spend roughly 8% of its revenues on capital asset acquisitions. However, its close rival, UPS (UPS), spent only 4.3% of its revenues. This is mainly due to the younger aircraft in the company's fleet. To compare, the capital spending as a percentage of revenue by FDX's peers in 2015 was as follows:
Investors seeking indirect investment in the transportation sector could consider the First Trust Industrials-Producer Durables AlphaDEX ETF (FXR). Railroads and airlines make up ~4.7% and 7.9%, respectively, of its holdings. In the next part of this series, we'll review Wall Street analysts' recommendations for FedEx.