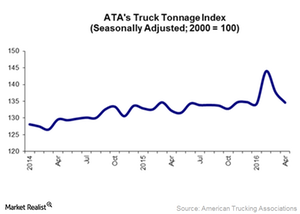 What Does the Fall in Truck Tonnage Index Mean for Truckload Carriers?
By Samuel Prince

Updated
Truck Tonnage Index
The Truck Tonnage Index, which takes into account for-hire trucks, fell in April 2016. American Trucking Associations calculate the tonnage index based on surveys from members since 1970s.
Article continues below advertisement
How has the index moved?
The seasonally adjusted Truck Tonnage Index declined by 2.1% in April 2016. In that month, the index was 134.8, down from 137.6 in March 2016. In March 2016, this index was down 4.4%. In February 2016, it was at an all time high of 144.
The not seasonally adjusted index in April 2016 was 135.1. This index represents the change in tonnage actually hauled by fleets before any seasonal adjustment. The April level was 5% below the levels in March this year.
Trucking and the economy
Trucking is the mirror of the US economy. The sector represents 68.8% of all tonnage carried by all modes of domestic freight transportation. Freight hauled includes manufactured and retail goods, and in 2014, trucks hauled just under 10 billion tons of freight. Motor carriers collected $700.4 billion, or 80.3% of total revenue earned by all transport modes.
According to ATA's Chief Economist, Bob Costello, "after having an abnormally large seasonally adjusted gain in February, tonnage fell in April, in addition to the large drop in March. However, while freight remained soft in April, based on other economic indicators, the outlook for tonnage is a little better than just a couple of months ago."
ETF investment
Investors bullish on the transport and logistics sector can consider investing in the SPDR S&P Transportation ETF (XTN). Trucking (JBHT) (SWFT), airlines (DAL), and railroads (NSC) make up 22.3%, 42.7%, and 13.7%, respectively, of XTN's portfolio holdings.
Now let's check in with Wall Street analysts on major truckload carriers.