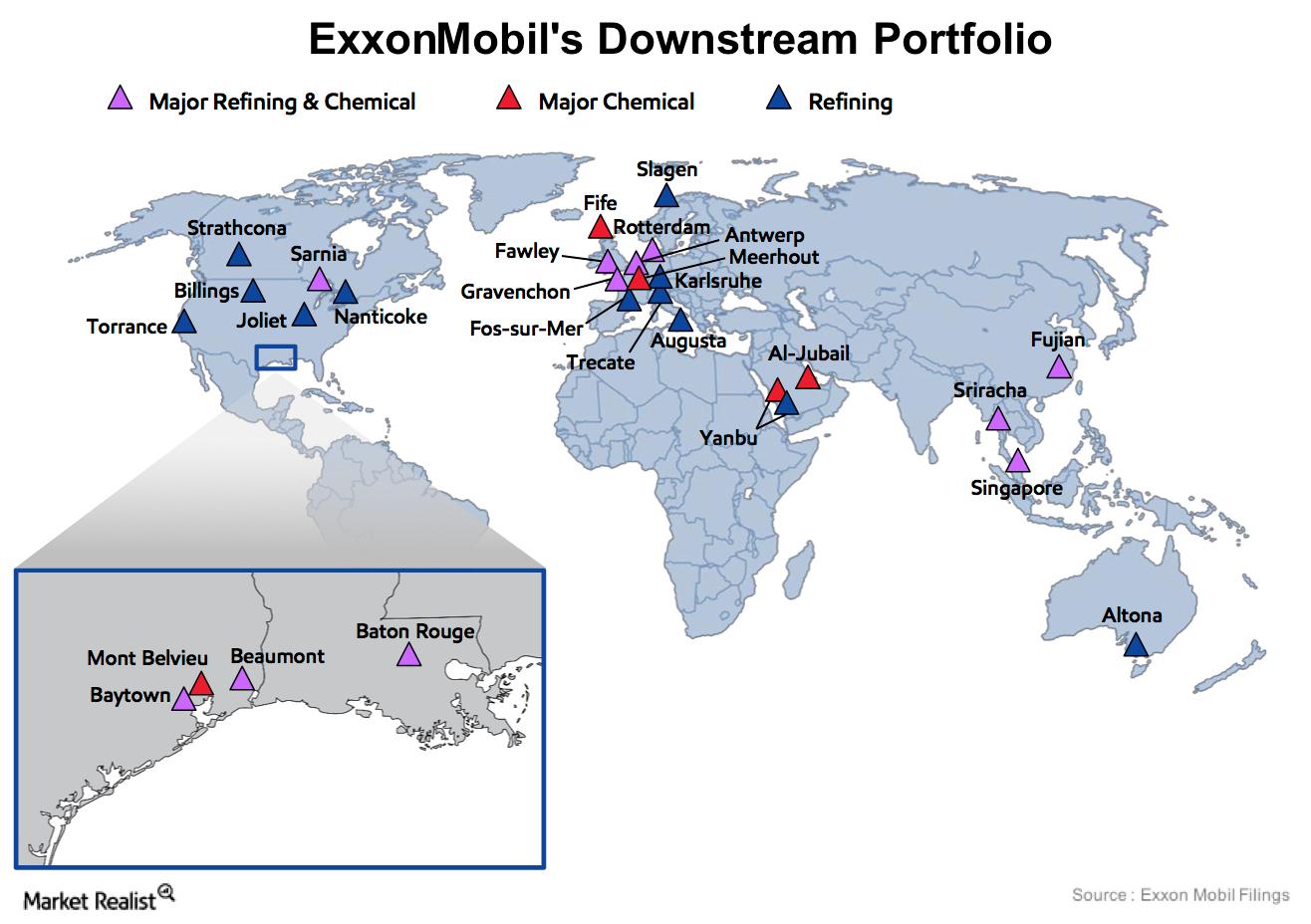 ExxonMobil's Downstream Portfolio Fortifies Its Integrated Model
By Maitali Ramkumar

Jun. 23 2016, Updated 11:08 a.m. ET
ExxonMobil's downstream segment: Refining expansion plans
ExxonMobil (XOM) has a total of 5.1 MMbpd (million barrels per day) of refining capacity. XOM's peers Chevron (CVX), BP (BP), and Total S.A. (TOT) have refining capacities of 1.8 MMbpd, 1.8 MMbpd, and 2.3 MMbpd, respectively.
ExxonMobil is expanding, modernizing, and upgrading its downstream assets to augment the use of its upstream and midstream capabilities. The expansion at XOM's Beaumont refinery aims to consume large, affordable supplies of lighter crude oil available in the United States. This is likely to be completed by 2017.
Improvements at XOM's Baton Rouge refinery, which are likely to be completed in 2016, aim at enhancing feedstock flexibility and midstream infrastructure.
ExxonMobil aims to increase its production of high-growth transport fuels, especially diesel. The construction of a delayed coker unit at XOM's Antwerp refinery is meant to convert low-value bunker fuel into high-value diesel products. The construction is likely to be complete by 2017.
The construction of a proprietary hydrocracker unit at XOM's Rotterdam refinery, meant to convert gasoil into advanced basestocks and distillates, is likely to be complete by 2018.
Article continues below advertisement
XOM's growing petrochemical portfolio
ExxonMobil has 35 million tons of petrochemical capacity and 136,000 barrels per day of lube basestock refining capacity. Around 80% of XOM's refineries are integrated with petrochemical and lubricant units, creating synergies in its downstream operations.
XOM plans to expand its ethylene and polyethylene facilities at its Baytown and Mont Belvieu sites. The projects aim to produce premium products from low-cost ethane. These projects are likely to be completed by 2017. The company's hydrocarbon fluid expansion project in Singapore is expected to be complete in 2016. The project aims to turn high-grade refinery products into intermediate chemicals.
ExxonMobil has also selectively invested in specialty products. The company has almost completed its specialty elastomers facility in Saudi Arabia.
By 2017, XOM expects two of its units in Singapore—its synthetic lubricant plant and its specialty polymers facility—to start production.
XOM's expansion plans in its refining and petrochemical segments are expected to lead to the optimum utilization of its integrated model. This, in turn, will likely aid the company in extracting higher returns across the global energy supply chain.
The iShares Russell 1000 Value ETF (IWD) has ~14% exposure to energy sector stocks.