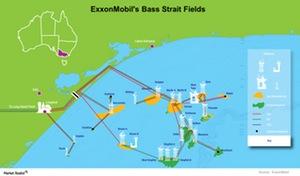 ExxonMobil Plans to Exit the Bass Strait Oilfields
By Maitali Ramkumar

Jun. 21 2016, Published 2:07 p.m. ET
ExxonMobil will exit Bass Strait oilfields
ExxonMobil (XOM) is churning its upstream portfolio to retain the most competitive assets in a low energy price environment. A step in this direction has been considering the sale of its oilfields in the Bass Strait.
According to various media reports, ExxonMobil and BHP Billiton (BHP) have put Australia's mature offshore oil assets, the Bass Strait Oilfields, up for sale. The assets are held by the Gippsland Basin Joint Venture (or GBJV).
Article continues below advertisement
The Bass Strait
GBJV, an equally owned joint venture between XOM and BHP, was formed to explore, develop, and produce oil and natural gas from the Bass Strait in Australia.
The Bass Strait, off Victoria's Gippsland coast, has produced four billion barrels of crude oil and eight trillion cubic feet of gas since 1965. The Strait's Kingfish oilfield was the first offshore oilfield and the largest oilfield ever to be discovered in Australia.
The fields that are reported as being up for sale are Kingfish, Perch, Dolphin, Seahorse, Tarwhine, Fortescue, Halibut, Cobia, Mackerel, Blackback, and Flounder.
However, media reports state that the Bass Strait's gas fields are being retained by the joint venture. These include the promising Kipper Tuna Turrum (or KTT) gas fields, which hold around 1.6 trillion cubic feet of gas and around 140 million barrels of liquids. KTT, a $4.5 billion project, has the capacity to power a city of one million people for 35 years.
The Bass Straits gas fields also include the Longford Gas Conditioning Plant, which is expected to come online this year. The plant will process gas from the KTT fields.
The divestment of the aging Australian oilfields fits ExxonMobil's strategy to discard assets that have already delivered expected returns within the targeted timeframe.
ExxonMobil's peers Total S.A. (TOT), Eni (E), Chevron (CVX), and Royal Dutch Shell (RDS.A) have also taken tough steps, such as portfolio rechurning, lowering costs, and reducing capital expenditure, to battle lower oil prices.
The iShares Russell 1000 Value ETF (IWD) has ~13% exposure to energy sector stocks.
Series outline
In this series, we'll provide you with updates on XOM's operations, financials, and market performance. In the next few parts, we'll examine the recent rise in XOM's stock price along with the company's analyst ratings.
Then we'll evaluate XOM's evolving business segment dynamics. We'll also examine XOM's leverage and cash flow position followed by its valuations and peer comparison. We'll conduct a correlation analysis of XOM's stock and oil prices, and we'll analyze the short interest in XOM's stock.