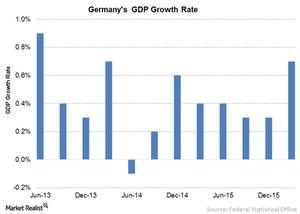 Is the Eurozone's Consumption-Led Growth Uptick Sustainable?
By Jean Boivin

Jun. 16 2016, Updated 10:04 a.m. ET
Is the eurozone's consumption-led growth uptick sustainable? The BlackRock Investment Institute took some of the firm's most senior portfolio managers to Frankfurt, Berlin and Milan earlier this month to understand what's taking place on the ground, and whether the recovery is for real. Here are the key takeaways.
The recent pickup in economic activity likely has legs, but progress on structural reforms and a rebound in investment are needed to make the recovery sustainable beyond the next 12-18 months.
Growth in Germany's "golden decade" looks to be plateauing. The economy is doing fine, but signs of complacency are starting to seep in, with backtracking on some economic reforms.
Article continues below advertisement
Market Realist – Eurozone needs progress on structural reforms
The ECB's (European Central Bank) accommodative policies and economic stimulus measures are showing some positive results. However, in order to sustain the economic growth, the Eurozone (EZU) (IEV) needs to initiate privatization, deregulation, trade liberalization, and labor reforms to attract investment. Although structural reforms may cause short-term pain, they can generate bigger benefits and boost output in the long run.
Germany's slowing growth
As Germany (EWG) is the largest economy in Europe, any European recovery depends on its growth to a large extent. The German economy grew by 0.7% in the first quarter of 2016, the fastest rate in the past two years. The growth was mainly driven by strong fixed investment growth and higher household spending thanks to the buoyant labor market, the ECB's monetary stimulus, and low oil prices (IEO).
Conversely, the external sector remained a weak spot and had a slightly detrimental effect on growth. Although the German (EWGS) economy is doing well, business confidence has waned in recent times. According to the ZEW (Centre for European Economic Research), the investor and analyst expectation index, which predicts economic developments six months ahead, fell to 6.4 from 11.2 in April. This reflects concerns over future growth.
In order to boost the long-term economic growth and to tackle the issue of a shrinking labor force, the International Monetary Fund has recommended measures such as accelerating structural reforms and increasing public infrastructure spending.