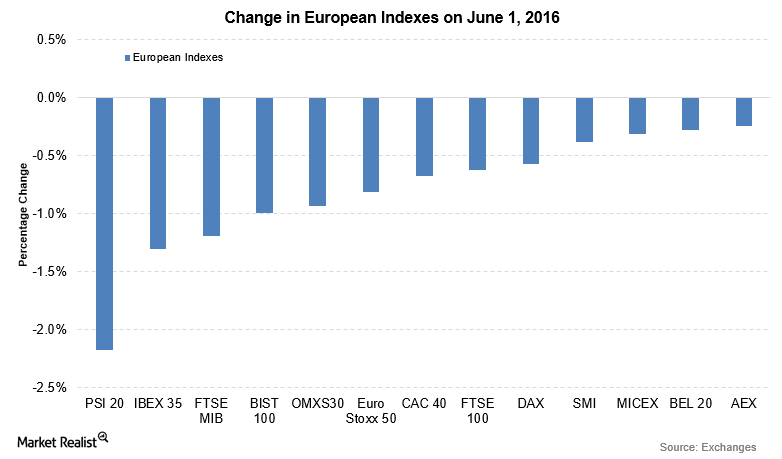 Weak Chinese PMI, ECB Meeting, and Brexit Weigh on Global Indexes
European indexes fell ahead of ECB meeting
Major European indexes (DBEU) continued to fall on June 1, 2016, as the weak Chinese PMI (purchasing managers' index) and the European Central Bank meeting on June 2 continued to weigh on investors. The weakness can also be attributed to the resurfacing of Brexit worries.
Specifically, the SPDR EURO STOXX 50 ETF (FEZ) fell by 0.81% . The German DAX and the French CAC 40 fell by 0.57% and 0.67%, respectively.
The non-Eurozone markets registered similar losses. The United Kingdom's (FKU) FTSE 100 fell by 0.62%, and Sweden's (EWD) OMX Stockholm 30 fell by 0.93%. The Russian (RSX) MICEX fell by 0.31%.
Article continues below advertisement
Asian indexes
Major Asian indexes (AAXJ) fell on June 1 after the release of weak Chinese PMI data. The Chinese (MCHI) DJ Shanghai Index fell 0.19% on the day.
The Japanese (DXJ) Nikkei 225 led the drop in the Asian indexes, falling by 1.6%. The iShares MSCI India ETF (INDA) was the only major index that posted a gain. It rose by 0.24%
The Australian (EWA) S&P/ASX 200 fell by 1.0%, while the Dow Jones New Zealand Index (VPL) fell by 0.25%.
US indexes
Among the US broad-based indexes, the S&P 500 VIX Index rose by 1.3% on June 1. The S&P 500 Index and the NASDAQ Composite Index were flat. The Dow Jones Industrial Average also remained unchanged.
In the next part of this series, we'll discuss why the euro and the Japanese yen rose and how their rise affected the US Dollar Index.