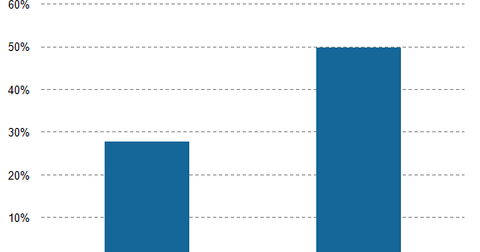 Why European Electricity Prices Rose More Than US Prices
By Vineet Kulkarni

Updated
Electricity prices in the United States and Europe
European retail electricity prices have nearly doubled in the last ten years. However, electricity prices in the United States have risen by only ~28%.
The electricity price gap between the United States and Europe has significantly widened in the last couple of years. Both regions are aiming for similar energy goals, but their policies differ drastically.
Regulatory structures, renewables penetration, and fuel prices are the major drivers of electricity prices. Apart from these, geographic location and world market prices also influence electricity prices.
Article continues below advertisement
Drivers behind the increase
The average electricity price in European households rose from 12 cents per kilowatt-hour in 2005 to 18 cents per kilowatt-hour in 2014. On the other hand, US prices rose from 8 cents per kilowatt-hour in 2005 to 10 cents per kilowatt-hour in 2015.
The substantial increase in electricity prices in European countries can be explained by high taxes and levies. European countries levy heavy taxes—as high as ~57% in Denmark—on basic electricity prices, which doubles the final price.
Comparatively, the United States has a very low portion of taxes included in the final price of electricity. In many European countries, a renewable energy tax, which is used to subsidize renewable facilities, is imposed on residential customers.
Hence, renewables' contribution to power generation has increased substantially in the last half decade. This contribution has inflated the electricity supply from renewables, disturbing the demand-supply energy equation and ultimately affecting the profitability of utilities.
Lower natural gas prices in the United States compared to Europe also contribute to lower electricity costs and lower prices in the United States. By market capitalization, Duke Energy (DUK), NextEra Energy (NEE), and Southern Company (SO) are biggest electric utilities in the United States. Europe's biggest utilities include Électricité de France, Engie (ENGIE), and Iberdrola (IBE).