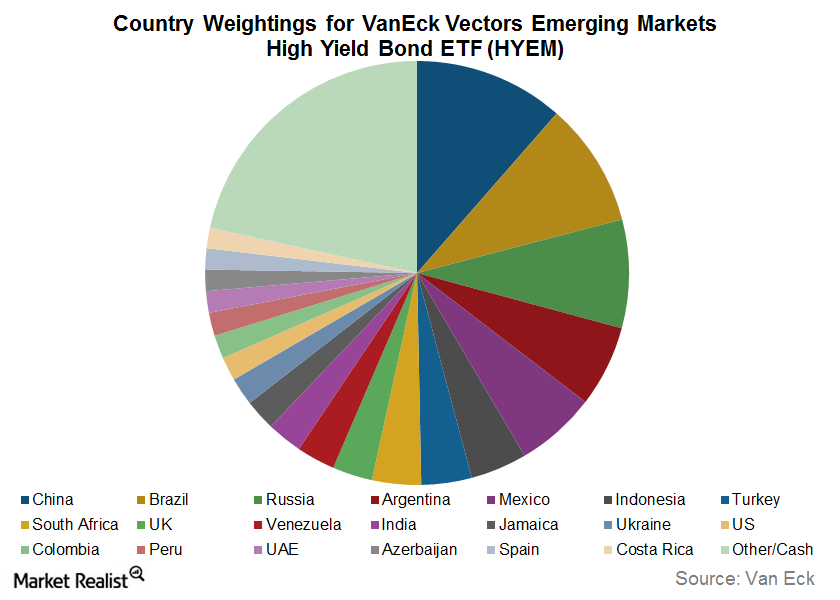 How High Yield Emerging Market Bonds Can Offer Hidden Value
By VanEck

Sep. 1 2020, Updated 11:20 a.m. ET
Look to HY EM Bonds for Hidden Value
Certain emerging markets corporate issuers may have credit ratings that reflect higher risk profiles than their corporate fundamentals alone would suggest, and pay higher yields than similar issuers based in developed markets. Why? Because a local sovereign credit rating can be a significant determinant of the credit rating on a corporate issuer's foreign currency bonds. The risk that a national government may impose restrictions limiting an issuer's ability to convert local currency into foreign currency to fulfill its external debt obligations is taken into account by rating agencies. This risk is generally higher for emerging markets countries, and therefore this "rating ceiling" can have a meaningful impact on an emerging markets corporate issuer's credit rating. This can create value for investors, who can potentially earn a higher yield relative to the underlying corporate risk they are taking.
Article continues below advertisement
The yield provided by high yield emerging markets bonds reflects both the potential risks and the value that the asset class can provide. High yield emerging markets bonds can provide an income-producing complement to an investment in emerging markets equities, and can also provide issuer and regional diversification alongside a domestic high yield allocation.
High yield emerging markets bonds can be accessed through VanEck Vectors Emerging Markets High Yield Bond ETF .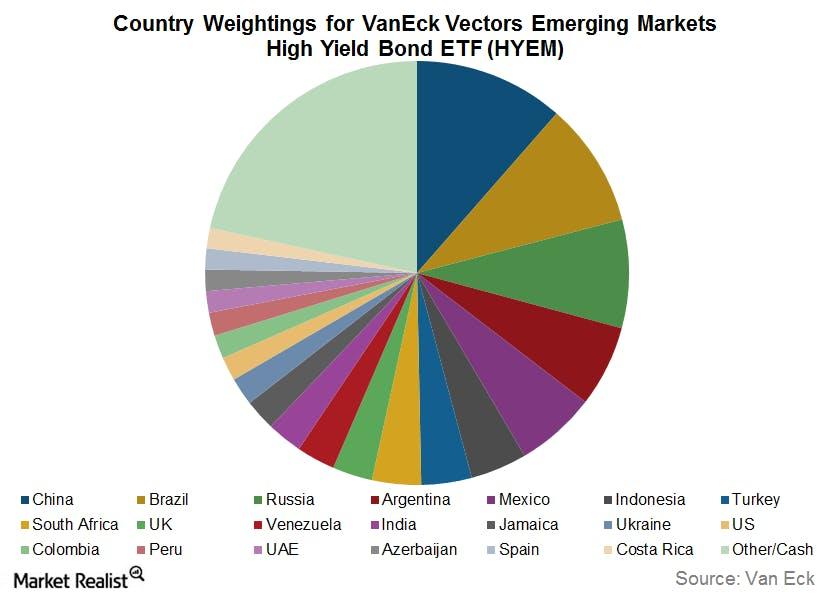 Article continues below advertisement
Market Realist – As we have discussed throughout the series, high yield EM bonds offer attractive yields and opportunities for value investors. With the news of Brexit creating ripples across the world, it seems unlikely that the Federal Reserve will hike rates anytime soon. This bodes well for HY EM (high yield emerging markets) bonds.
HY EM bonds currently offer higher yields than both high yield US corporate bonds (HYG) (JNK) and high yield EM sovereign bonds. Moreover, HY EM corporate bonds have historically boasted of lower default rates than HY US corporate bonds (Source: S&P Global Fixed Income Research, 2011 Annual Global Corporate Default Study and Rating Transitions). Thus, it makes sense for yield-starved investors to look to HY EM bonds for hidden value.
Investors singling out specific EM countries (EEM) while investing in high yield corporate bonds should remain wary of the fact that not all countries offer equal opportunities. For example, Turkish corporate bonds seem to show signs of overvaluation. On the other hand, Argentina and Russia could provide good value opportunities for high yield investors.
Investors looking for opportunities in HY EM bonds can look at the VanEck Vectors Emerging Markets High Yield Bond ETF (HYEM) or the VanEck Vectors Emerging Markets Local Currency Bond ETF (EMLC).
Article continues below advertisement
The HYEM uses the BofA Merrill Lynch Diversified High Yield US Emerging Markets Corporate Plus Index (or EMLH) as its benchmark. The EMLH comprises of US dollar-denominated bonds issued by corporate EM issuers that are rated below investment-grade and that are issued in the major domestic and Eurobond markets. The previous graph shows the country weights as a percentage of net assets for the HYEM. The top five country weights are China at 11.4%, Brazil at 9.5%, Russia at 8.3%, Argentina at 6.2%, and Mexico at 6.1%.
The HYEM sports an effective duration of 3.8 years, which is lower than most other US high yield ETFs. On the other hand, the 30-day SEC yield for HYEM stands at 7.2%, which is much higher than most US high yield ETFs. This puts the ETF at a distinct advantage, especially when corporate default rates tend to be lower for HY EM bonds than US high yield bonds.
HY EM bond investors need to keep track of possible headwinds like a US rate hike, fluctuations in commodity prices, worsening EM corporate default rates, and weakening prospects for the Chinese economy.