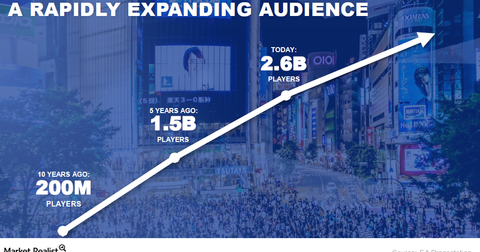 Electronic Arts Benefits from a Rapidly Expanding Audience
By Adam Rogers

Updated
User base of over 2.6 billion players
In May 2016, Electronic Arts (EA) held its annual Investor Day. In the chart below, we can see that there were approximately 200 million players in 2006. In comparison, the gaming segment now has 2.6 billion players.
Game players around the globe increasingly have access to smartphones and other handheld devices. Although they would not have played video games on consoles such as the Xbox (MSFT) or the Japan-based (EWJ) PlayStation (SNE), these players often prefer to play games on their mobile phones.
This series focuses on how EA views the gaming market, as well as a look at the key trends and drivers impacting the company's long-term performance.
Article continues below advertisement
The global market forecast
According to Electronic Arts (EA), the global video gaming market was worth $75.9 billion in 2014 and $85.1 billion in 2015. This market is expected to grow at a CAGR (compound annual growth rate) of 4% between 2015–2018. EA expects its global revenues to reach $96.6 billion by 2018.
About Electronic Arts
Electronic Arts is a US-based (SPY) developer, marketer, and distributor of video games. Headquartered in Redwood City, California, the company was founded in 1982.
Electronic Arts was a market leader of early home personal computer games and is well-known for its designers and programmers. The company has more than 8,000 employees and has a market cap of ~$23 billion.