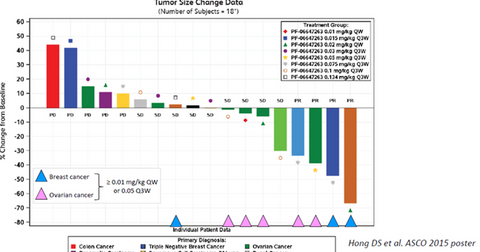 What Could Happen with AbbVie's EFNA4-Calicheamicin in Cancer Stem-Cell Therapy?
By Margaret Patrick

Updated
Cancer stem-cell therapy
Based on strong efficacy and safety data from preclinical trials as well as its phase-1 trial, AbbVie (ABBV) expects its EFNA4-Calicheamicin therapy, PF-06647263, to become a strong option for ovarian cancer as well as for triple-negative breast cancer. Developed in partnership with Pfizer (PFE) since 2011, EFNA4 targets cancer stem cells that have been recognized in triple-negative breast cancer and ovarian cancer. With its strong oncology portfolio, AbbVie is expected to pose tough competition to established players such as Merck (MRK) and Bristol-Myers Squibb (BMY).
According to AbbVie's R&D Day presentation, "cancer stem cells are the cells that are responsible for the initiation, progression, and spread of tumors."
Article continues below advertisement
Clinical trial results
The above diagram shows results from phase-1 clinical trials for PF-06647263, across multiple types of solid tumors and a variety of dosage forms. The data highlights the strong response generated by the therapy in patients with ovarian cancer and breast cancer.
The toxicity levels or safety data obtained to date has also been satisfactory. Similar to Mylotarg, which uses Calicheamicin (a strong cytotoxic agent), PF-06647263 displays some side effects, including mucositis, or tissue swelling in the mouth, and thrombocytopenia.
According to MedlinePlus, "Thrombocytopenia is any disorder in which there is an abnormally low amount of platelets. Platelets are parts of the blood that help blood to clot. This condition is sometimes associated with abnormal bleeding." However, these problems can be mitigated by administering the drug on a weekly basis.
If approved, the drug could have a positive impact on the iShares US Healthcare ETF (IYH), which has about 3.5% exposure to AbbVie.
In the next part, we'll analyze AbbVie's hematologic oncology drug, Imbruvica.