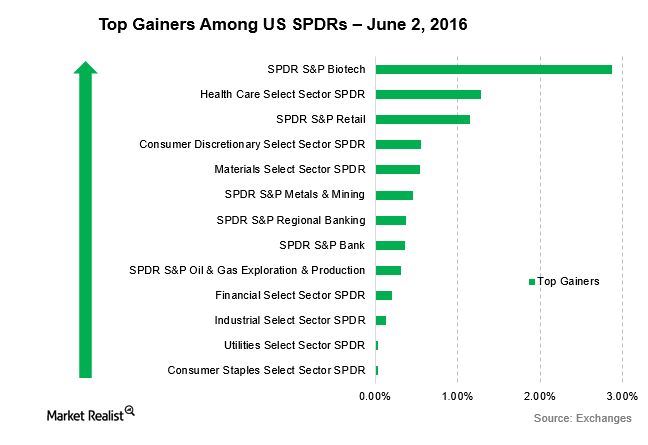 ECB Leaves Rates Unchanged, Stimulus Levels Still Constant
ECB barely increased inflation forecast despite rise in crude oil
The ECB (European Central Bank) kept interest rates unchanged at 0% on June 2, 2016. Mario Draghi, president of the ECB, hinted at optimism for growth in the Eurozone (EZU) (FEZ) economy.
The quantitative easing program was left unchanged at 1.8 billion euros. The possibility of increasing the stimulus remains open in case inflation levels remain low. The inflation forecast was barely raised to 1.6% for 2018 despite a recovery in crude oil prices. That shows some potential for an increase in stimulus in the coming months.
Growth forecasts for the Eurozone economy increased from 1.4% to 1.6% for 2016. Even though the risks of a possible Brexit (British exit from the European Union) were highlighted in the ECB meeting, Draghi said that the ECB's current policies can make a difference.
Article continues below advertisement
UK construction PMI nears three-year low
On June 2, 2016, the construction PMI (Purchasing Managers' Index) for the United Kingdom (EWU) had its lowest reading since June 2013. It released at 51.2 in May, falling from 52.0 in April. A decline in residential and commercial construction activity contributed to the decline in growth.
Eurozone PPI index falls by 4.4%
Producer prices in the Eurozone (VGK) (IEV) continued to fall in April. Data released by Eurostat on June 2, 2016, showed a decline of 4.4% on an annual basis in PPI (Producer Price Index), below a contraction of 4.1% in the previous month. On a monthly basis, producer prices fell by 0.3% in April against a rise of 0.3% in March.
In the next part of the series, we'll look at Takehiro Sato's view on the Bank of Japan's monetary policy and data releases from Asia on June 2, 2016.