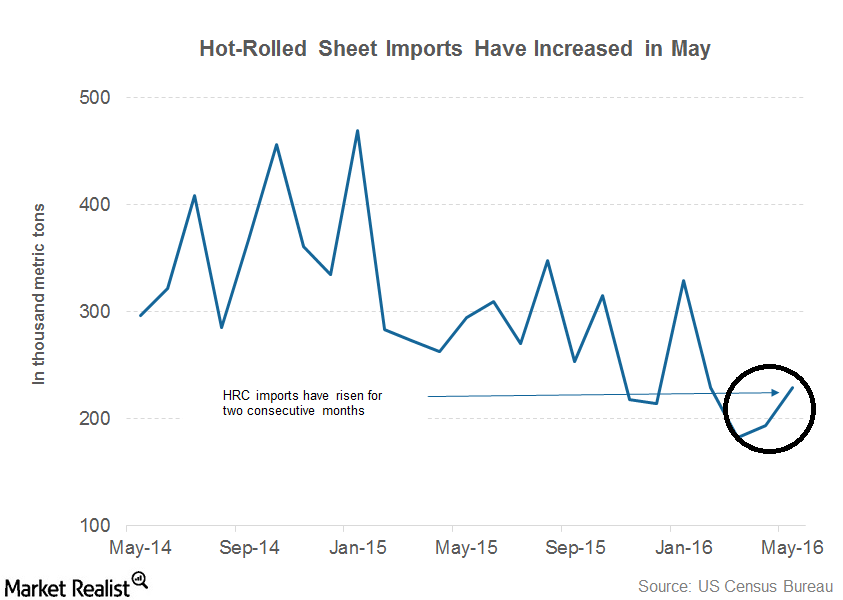 Diving Deeper into US Steel Import Data in May
May steel imports data
In the previous part of this series, we saw that US steel imports declined in May on a YoY (year-over-year) basis while they increased compared to April. Now, we'll see which product categories saw major changes in May.
Article continues below advertisement
Flat steel products
Flat steel products consist of sheets and plates that are used in a wide range of industries such as the automobile, domestic appliances, shipbuilding, and construction sectors. HRC (hot rolled coil), CRC (cold rolled coil), and HDG (hot dip galvanized) sheets are among the most widely used flat steel products. Note that the US slapped strict anti-dumping duties on imports of these products.
In May, HRC and HDG imports rose 18.1% and 4.4%, respectively—compared to April. CRC imports fell ~7% during this period. In absolute terms, flat steel imports are still much lower compared to last year. For instance, HRC imports averaged 292,000 metric tons per month last year. May HRC imports were ~229,000 metric tons—lower compared to last year's average.
Concerning signal?
However, what's concerning is the fact that HRC imports increased on a monthly basis for two consecutive months. Due to the trade cases, US steel buyers weren't able to tap their existing trading partners for steel imports. It's a time lag before new supply lines are developed.
If US steel buyers are able to successfully develop new supply lines, US steel companies like U.S. Steel Corporation (X), Nucor (NUE), AK Steel (AKS), and Steel Dynamics (STLD) would lose their pricing power. Currently, US steel producers (XME) are making decent money. It would be difficult for them to prove that the domestic industry is injured by imports.
An increase in steel imports later this year is among the biggest risks facing the US steel industry.
Read Has Wall Street Taken Note of US Steel's Improved Fundamentals? to explore the steel industry's short-term and long-term outlook.