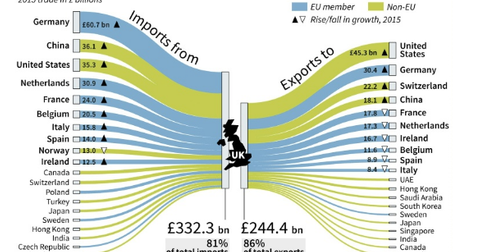 Why Didn't Technology Companies Want the UK to Leave the EU?
By Anne Shields

Jul. 5 2016, Updated 2:06 p.m. ET
Brexit could lower the United Kingdom's IT competitiveness
So far in this series, we've discussed Brexit's impact on the information technology sector. Before Brexit, IBM (IBM) and Microsoft (MSFT), along with 32 other technology companies such as Virgin Media, BT, and HP Enterprise (HPE), urged UK citizens to vote to remain in the European Union (or EU).
Their digital letter as cited by the Inquirer stated, "The UK's tech sector is a global success. It is growing faster than the rest of the UK economy and creating new businesses and jobs across the country. EU membership has underpinned that success. A vote to leave would undermine it."
Article continues below advertisement
The letter further stated, "[We] believe staying in the EU is the best choice for the UK economy." It further stated, "It makes the UK more attractive to international investment and makes Britain more globally competitive. A decision to exit the EU would leave tech firms and their customers facing significant and prolonged uncertainty, and leave the UK sidelined on key decisions that will shape a digital market of 500 million consumers."
Stricter immigration rules resulting from Brexit will make the United Kingdom less competitive
Workers from EU member countries have a considerable presence in UK (EWU) technology startups. A possible explanation for this is a lack of sufficient graduates in the United Kingdom with degrees in mathematics and science, which are vital to IT, development, and engineering positions.
Brexit is likely to add new barriers to immigration and recruitment. This may not have a significant impact on leading technology companies, but it will be inconvenient and burdensome for startups and small technology companies.
Startup costs hold special importance in the technology space due to network effects. Network effects refer to the economies of scale that are achieved when more and more people use a good or service.
Though Brexit news is bad for the technology sector as a whole, it's worse news for smaller technology companies and startups. This could be the reason why, in a poll taken before the referendum, ~90% of the respondents in the UK technology sector wanted to remain in the EU.
On the face of it, it appears that Brexit may not impact the technology sector as profoundly as it will other industries, such as banking and financial services. However, it's apparent that Brexit will make not just the United Kingdom but all of Europe a complicated place to start or operate a technology company.
For diversified exposure to companies in the US software space, you can consider investing in the Technology Select Sector SPDR ETF (XLK). XLK has ~38% exposure to the application software space.