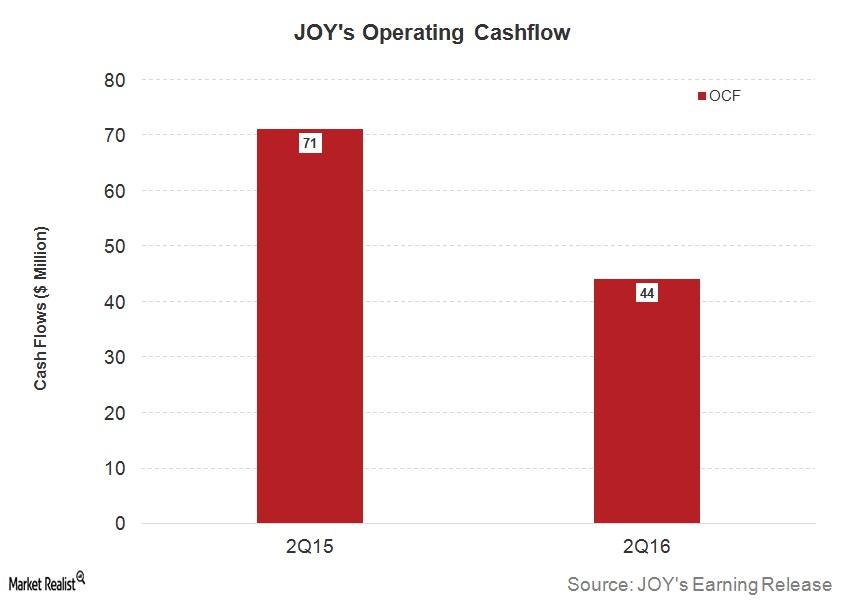 Did Joy Global's Operating Cash Flow Really Improve in Fiscal 2Q16?
Joy Global's operating cash flows
Despite the operating loss of $9.8 million it saw in fiscal 2Q16, Joy Global (JOY) reported cash generation from continuing operations totaling $44 million, a noteworthy decline from the $71.1 million it saw in 1Q16.
This decline was primarily driven by the company's reduced working capital requirement, and it shows clearly the management's effort to achieve a healthy balance sheet amid a challenging environment.
Article continues below advertisement
Reduced capex and no share repurchases
JOY has sharply cut back its capital expenditure, or capex, which was $12 million in fiscal 2Q16 and $8 million in fiscal 1Q16, as compared to $71 million in fiscal 2Q15 and $22 million in fiscal 1Q15. The company's capex consists of general maintenance and a buildout of its service facility in Eurasia. For the fiscal year (which ends October 2016), JOY expects its capex to be ~$70 million.
During the past two years, Joy Global has repurchased 9.8 million shares worth $533 million. However, the company didn't repurchase shares during the past two quarters of the current fiscal year.
Credit facility
In fiscal 1Q16, JOY proactively amended its credit facility in an aim to develop better financial stability and flexibility. This effort also acts as a precaution in the current global commodity slump scenario. At the end of fiscal 1Q16, JOY should be able to meet its amended covenants.
In order to divest risk, investors can gain exposure to JOY through ETFs such as the VanEck Vector Coal ETF (KOL), which has ~5.2% of its total assets in Joy Global, or the Guggenheim S&P Mid-Cap 400 Pure Value ETF (RFV), which has ~3.3% of its total assets in JOY.
RFV also has 2.6% of its total assets in Talen Energy (TLN), 2.0% in Commercial Metal (CMC), and 2.0% in Tech Data (TECD).
Continue to the next part for a closer look at JOY's debt and liquidity.