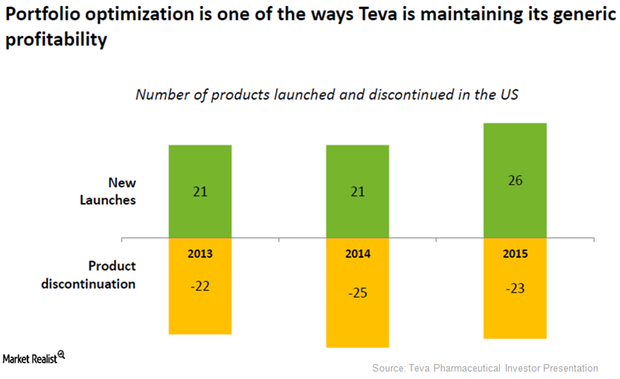 Teva Expects to Maintain Profitability despite Tough Pricing Environment
By Margaret Patrick

Jun. 13 2016, Updated 9:07 a.m. ET
Pricing environment
Since February 2016, generic drug manufacturers, wholesalers, and distributors have been expressing increased concern over the expected price deflation in the industry. Teva Pharmaceutical (TEVA) witnessed a 4% price erosion in the US market in 2015 and expects the trend to continue in 2016. Peers such as Mylan (MYL) and Allergan (AGN) also witnessed similar price erosion in 2015.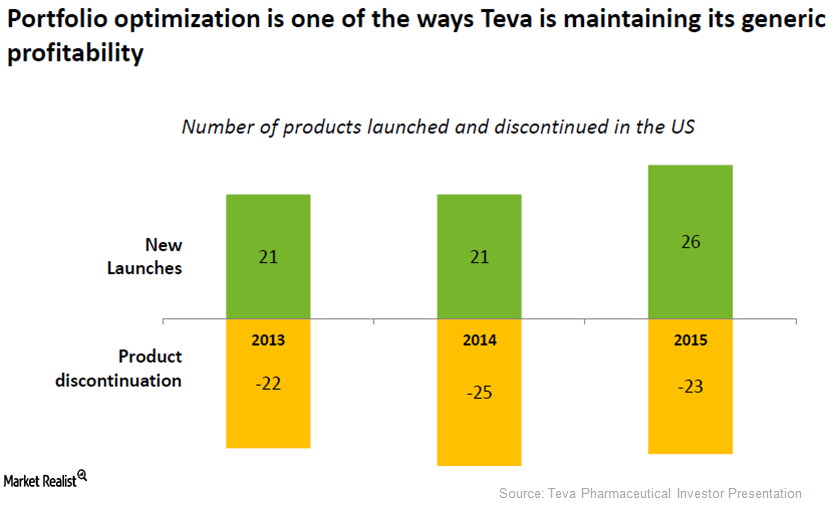 To limit price erosion and safeguard its profit margins, Teva has been actively involved in optimizing its portfolio. Since 2013, the company launched 68 new products and discontinued 70 products from the market.
Article continues below advertisement
The consolidation of customers is also expected to further increase pricing pressure on generic pharmaceutical players. Teva has been proactive in including the fees and charges related to customer consolidation in the overall pricing of the product. The success of these efforts was reflected in the operating margins of the company's generic business in 1Q16. Teva Pharmaceutical's operating profit margins rose from 25.5% in 4Q15 to 26.9% in 1Q16.
Better performance than peers
Teva Pharmaceutical has managed to record a stronger performance than peers with older product portfolios. Since these peers have portfolios that are concentrated in a limited number of therapeutic areas, their profit margins have seen more erosion by normal competition than by the tougher pricing environment. Additionally, the peers seem to have launched a limited number of new products. A less-than-optimal portfolio mix has further increased their dependence on market forces. This has enabled Teva Pharmaceutical's generic business to surpass the performance of peer companies.
If this trend continues in the future, it may benefit Teva Pharmaceutical's share price as well as those of the First Trust Value Line Dividend Index Fund (FVD). Teva Pharmaceutical makes up about 0.54% of FVD's total portfolio holdings.
Similar to the strategy adopted by Novartis (NVS) through its subsidiary Sandoz for the launch of Copaxone generic, Glatopa, Teva Pharmaceutical has consistently preferred profit growth over volume growth. To aggressively capture market share, generic players offer high pricing discounts. This volume growth, however, translates into lower profit margins. Teva Pharmaceutical has refrained from using this strategy and has managed to sustain its profitability.
In the next article, we'll analyze Teva Pharmaceutical's generic business.