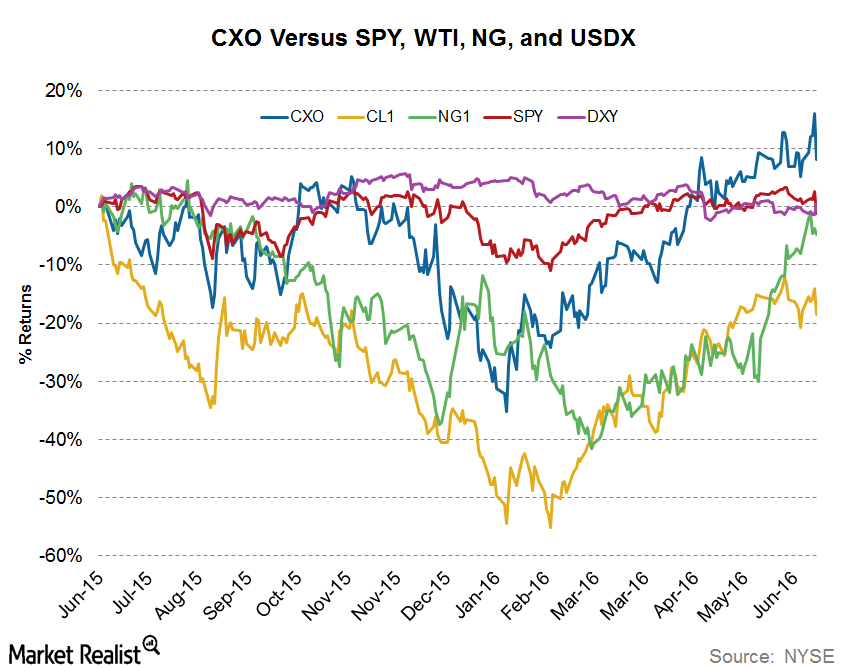 Why CXO Is a Good Way to Withstand Volatility in Energy Prices
By Keisha Bandz

Jul. 12 2016, Updated 5:05 p.m. ET
CXO's stock performance compared to crude oil
Concho Resources' (CXO) stock price and the price of WTI (West Texas Intermediate) crude oil (UCO) have a correlation coefficient of 0.68 for the last 12 months. This indicates a positive correlation between the two. Meanwhile, the correlation coefficient between CXO and natural gas prices over the same period is 0.11. WTI crude oil prices have a greater influence than natural gas prices on CXO's stock price.
Article continues below advertisement
CXO's peers Hess (HES) and Apache (APA) have correlations of 0.65 and 0.66, respectively, with crude oil prices for the last 12 months. The correlations of these stocks with natural gas prices were also much lower at 0.11 and 0.10, respectively. All of these companies combined account for 2.3% of the iShares Global Energy ETF (IXC).
As you can see in the above chart, while CXO did see a dip, it continues to outperform both crude oil and natural gas despite the drop experienced in commodity prices after the referendum. As of June 24, CXO fell ~7% since June 23.
Also, CXO mainly performed better than WTI in the oil price drop and oil price increase. This means that when oil prices rise, CXO surfs the rally, and if prices fall, it experiences less of an impact on its stock.
CXO also provided better returns compared to the S&P 500 (SPY) as well as the US Dollar Index (USDX) since June 2015.
So, given its recent stock price drop combined with its healthy balance sheet and lower debt, CXO would make for an attractive option to wait out the storm.