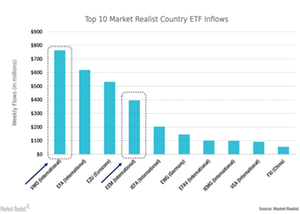 Country ETFs: Investors Caught Off-Guard
By Meikel Mokry

Jun. 27 2016, Published 9:57 a.m. ET
Emerging markets hit hard as the relationship to US yield changes
Within the country ETF space, a key reversal in the relationship between US Treasury yields and emerging market equities is becoming increasingly clear. Ever since the Federal Reserve announced it would slow its asset purchase program in 2013, a rise in US yields has sent shockwaves throughout emerging markets. A large drop in yields sent emerging market equities and currencies higher. But that relationship has changed, and Friday was another wake-up call for investors.
Article continues below advertisement
As we discussed in Part 2 and Part 3 of this series, US Treasury yields tumbled to new lows post-Brexit as market participants bought into the relative safety of US Treasury bonds. However, as major G-10 currencies—including the pound (GBP/USD) and the euro (EUR/USD)—tumbled on Friday, the US dollar continued to strengthen. US dollar strength, in turn, led to a brutal sell-off in emerging market currencies—including the Brazilian real.
Consequently, investors panicked, leading to a large drop in Vanguard's FTSE Emerging Market ETF (VWO) at 5.7% on Friday. The iShares MSCI Emerging Markets ETF (EEM) tumbled as well, closing 6.1% lower. Interestingly enough, inflows into emerging market ETFs continued for the second week.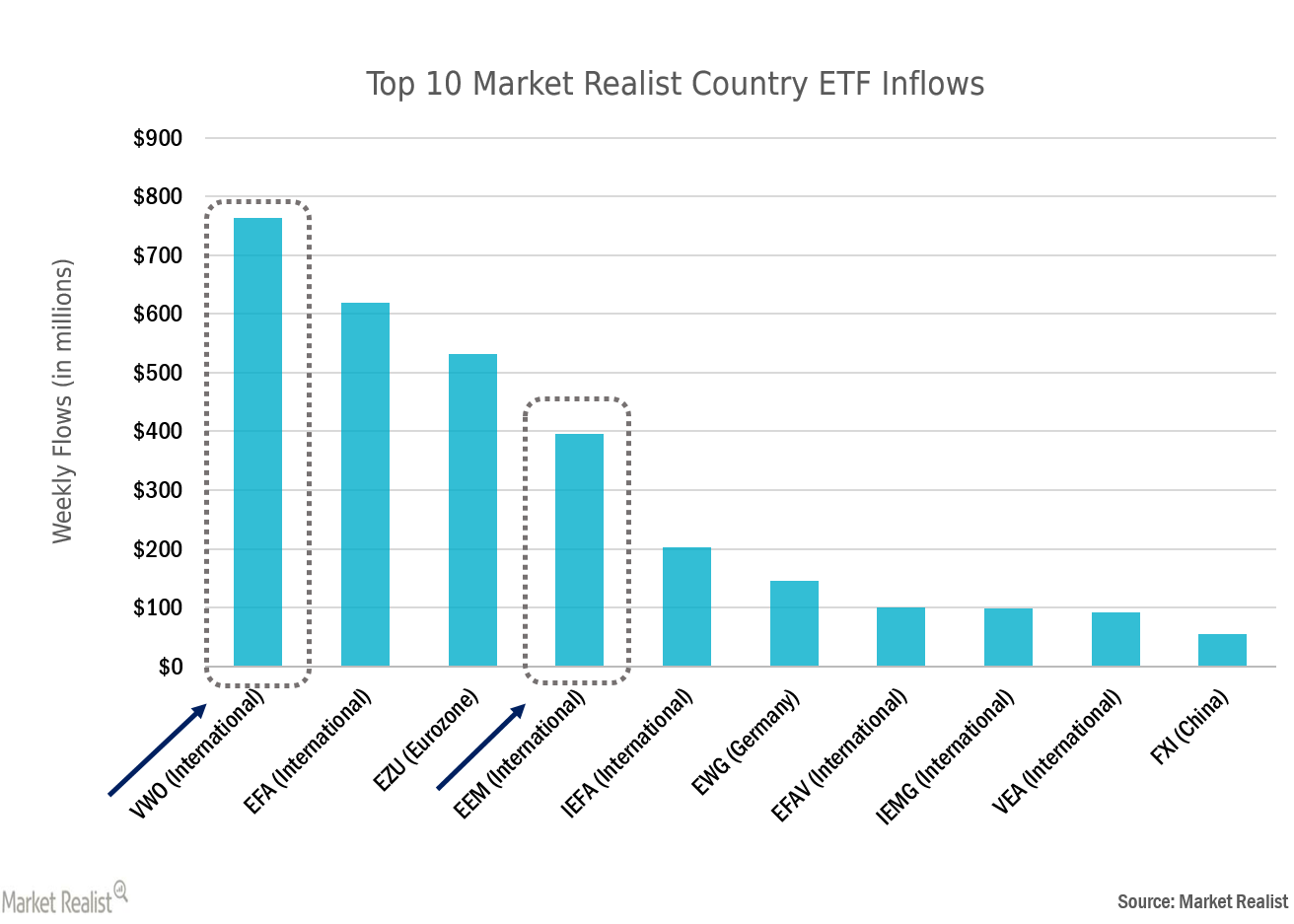 Perhaps long positioning in emerging market ETFs may turn out wise in the long run and investors are just buying into the recent dips. However, short-term traders have been caught off-guard by a changing cross-asset relationship.
Hedged Eurozone ETFs see outflows for a second week
Outflows from hedged Eurozone ETFs continued last week. WisdomTree's Europe Hedged Equity Fund (HEDJ) saw the largest outflows while the Deutsche X-trackers MSCI Europe Hedged Equity ETF (DBEU) also lost capital, although to a lesser extent.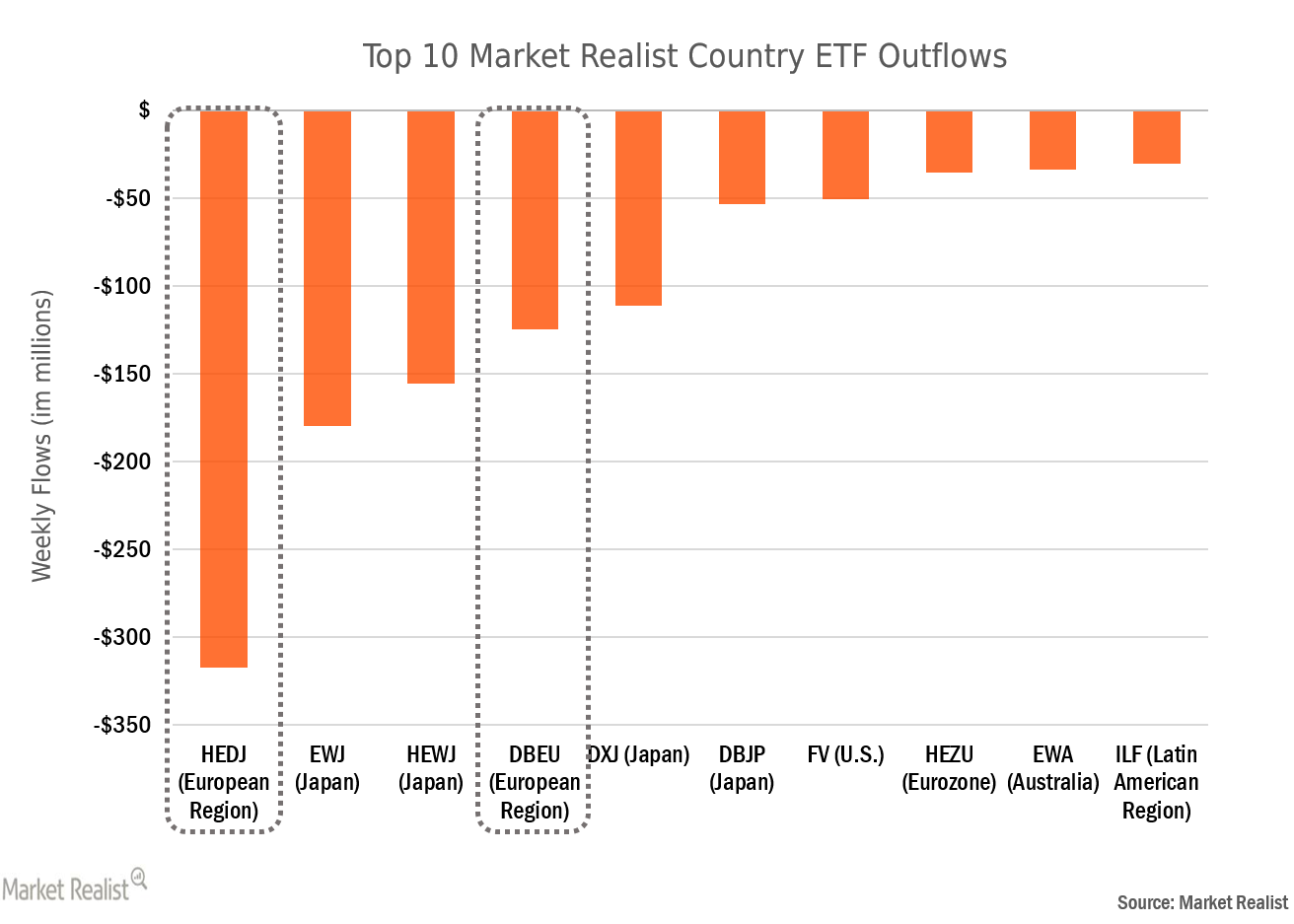 These outflows confirm the sizeable drops in both ETFs on Friday. ETFs that focus heavily on Europe were among the worst performers. While HEDJ plummeted 8.8% on the day, DBEU lost 7%.
The interesting part of these outflows and corresponding negative performances was that both HEDJ and DBEU engage in currency forward contracts to hedge out European currency exposure versus the US dollar. Therefore, both ETFs would outperform unhedged peers like the iShares MSCI Eurozone ETF (EZU) in scenarios where European currencies fall in value against the US dollar.
However, as the first chart above shows, money flowed into EZU last week. This inflow means investors were likely betting on the United Kingdom staying within the European Union, which would, in all likelihood, have led to a rally in European equities and an increase in the value of European currencies. As the opposite occurred and the Brexit became a harsh reality, investors painfully realized the importance of taking hedged versus unhedged exposure into consideration as EZU underperformed, falling 11.5% on Friday.
Flows in hedged versus unhedged ETFs will very likely be a major focus going forward as currency volatility has just gotten another boost.