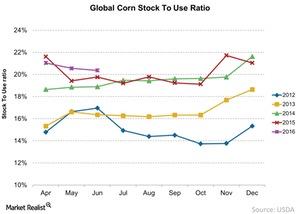 Why Is Corn's Stock-to-Use Ratio at a 5-Year High?
By Adam Jones

Updated
Corn's stock-to-use ratio
The stock-to-use ratio in the agriculture industry tells us how much inventory of a particular crop is available for consumption. A higher supply of crops to its demand results in a higher stock-to-use ratio.
Because supply and demand ultimately drives price, investors must track how the global stock-to-use ratio moves.
Article continues below advertisement
Ratio higher
The above chart shows how the global corn stock-to-use ratio in 2016 is moving compared to the past four-year period. This appears to be driven by an increase in the global ending inventory of corn, which has been increasing over the years.
To put this in perspective, the global corn inventory in June 2016 was 205 million metric tons, which was 5% higher than the global corn inventory in June 2015 of 195 million metric tons.
Corn inventory
The corn inventory in 2012 was significantly lower, at about 155 million metric tons, according to the USDA. Corn's stock-to-use ratio was the lowest in 2012 and increased in each following year.
The stock-to-use ratio for corn in the recent USDA report for June 2016 stood at 20.4%, which is 0.6% higher compared to the ratio in 2015 and 3.4% higher compared to 2012.
These factors have an impact on corn prices, determining the fate of fertilizer companies (XLB) such as CF Industries (CF), CVR Partners (UAN), Agrium (AGU), and Mosaic (MOS).
In the next article, we'll discuss how the prices of corn have moved over the same period.