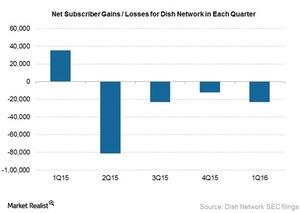 Comparing the Churn for Dish's Sling TV and Its Pay-TV Business
By Shirley Pelts

Updated
Difference between churn for pay-TV and Sling TV
Subscriber losses have been a concern for pay-TV companies like Dish Network (DISH). During the company's earnings call for the most recent quarter, Dish was asked how its pay-TV churn differed from the churn for its Sling TV service.
Dish stated that considering that its pay-TV subscribers sign a contract for two years, the subscriber churn tends to be greater at the end of those two years. Dish's pay-TV subscriber churn rate was 1.6% in fiscal 1Q16.
In contrast, Dish Network stated that for Sling TV, the churn is highest after the end of a customer's trial period and continues to decline for a paid customer after the first paid month of membership for Sling TV.
Article continues below advertisement
Dish added that when it considered the low cost for sampling Sling TV, it was likely for a viewer to churn to another OTT (over-the-top) service after the trial period. As a result, Dish expected that when compared to its Sling TV service, this churn tends to affect premium OTT services like Time Warner's (TWX) HBO Now and CBS (CBS) Showtime more than Sling TV.
Subscriber acquisition costs and churn
As the chart above shows, Dish Network (DISH) lost 23,000 subscribers in fiscal 1Q16 and ended the quarter with 13.8 million pay-TV subscribers. In contrast, Dish gained 35,000 subscribers in fiscal 1Q15. Dish includes its Sling TV subscribers as a part of its pay-TV subscriber base.
When asked whether the company's subscriber losses resulted from price-sensitive customers opting away from the pay-TV company after its price increase early this year, Dish referred to its subscriber acquisition costs (or SAC).
The company stated that its SAC factored in free programming, the cost of programming, and the cost of acquiring that customer. Dish had an average SAC per subscriber of $648 in fiscal 1Q16.
Dish makes up 0.2% of the PowerShares QQQ Trust Series 1 ETF (QQQ). QQQ also has 5.1% exposure to the television and radio sector. QQQ also holds 0.73% of Netflix (NFLX).