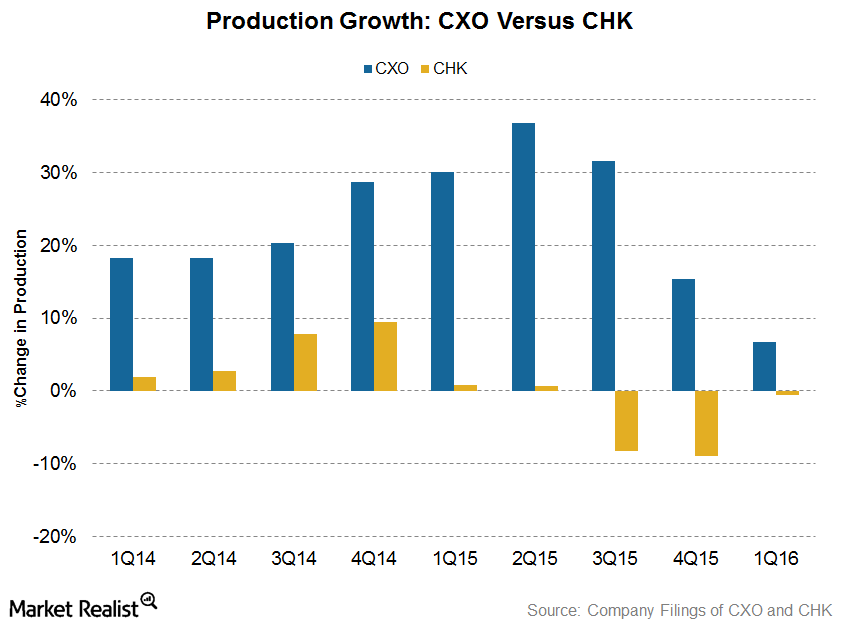 Comparing CXO and CHK on Production Growth
Production growth
Concho Resources (CXO) had shown higher production growth rates until 2Q15, after which its production growth started declining. In 2016, CXO expects its annual production to be flat compared to 2015.
Chesapeake Energy (CHK), on the other hand, has been seeing negative growth rates for its production volumes since 3Q15, which also explains its lower revenues, as discussed in part two of this series. CHK expects its production growth to be in the range of -5%–0%, adjusted for asset sales in 2016.
Article continues below advertisement
Whiting Petroleum (WLL), by comparison, has provided 2016 production growth guidance of -18% at the midpoint. Oasis Petroleum (OAS) has provided growth guidance of -6% at the midpoint, and Apache (APA) has provided growth guidance of -9% at the midpoint. Combined, these companies make up 8.7% of the iShares U.S. Oil & Gas Exploration & Production ETF (IEO).
Asset sales to lower CHK's production
CHK projects the net impact of its recent asset sales, amounting to approximately $950 million in net proceeds, will result in a reduction of ~35,000 boepd (barrels of oil equivalent per day) in its production volumes, about 60% of which is natural gas.
Chesapeake Energy seems to be relying heavily on asset sales to shore up its finances. Investors will be concerned whether the company can sell assets fast enough, and at high enough prices, to counter its debt if energy prices remain weak.
Acquisitions are the way to go for CXO
In stark contrast, CXO has used its strong balance sheet position to make acquisitions in 2016. This was meant to help enhance its position in the South Delaware Basin. Tim Leach, CXO's CEO, said in the 1Q16 earnings release, "During the first quarter, we also closed two transactions that high-graded the portfolio—selling lower rate of return assets, while adding top tier acreage— resulting in improved leverage metrics and additional cash on our balance sheet."
In the next part of this series, we'll compare CXO and CHK on valuation.