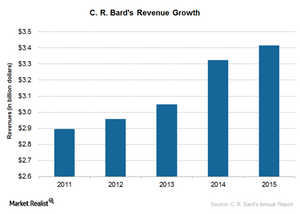 Company Overview: An Introduction to C. R. Bard
A brief overview of C. R. Bard
Headquartered in Murray Hill, New Jersey, C. R. Bard (BCR) is a leading medical technology company in the United States. The company is now branded simply as Bard. It develops, manufactures, and markets medical equipment for urological, oncological, vascular, and surgical specialties. The company's most well-known product, the Foley catheter, a urinary catheter, was developed in 1934.
C. R. Bard is an S&P 500 company that operates across more than 30 countries and employs over 15,000 people. The company's net sales exceeded $1 billion for the first time in 1994 and it registered revenues of $3.4 billion in 2015.
Article continues below advertisement
C. R. Bard's brief history
C. R. Bard was founded in 1907 by Charles Russell Bard. The company started as a medical supply import company, selling a European drug called Gomenol. Gomenol was used for the treatment of urinary discomfort.
C. R. Bard was incorporated in 1923 and was sold three years later to Edson Outwin and John Willits for $18,000. The company then expanded by selling catheters. In 1934, the Davol Rubber Company developed the Foley catheter and C. R. Bard became the sole distributor of the product. In 1957, the company started selling its catheters in sterilized packages. It expanded beyond catheters in 1961 and witnessed a remarkable revenue growth during the decade. The company went public in 1963 and was listed on the New York Stock Exchange in 1968. In 1964, it started manufacturing intravenous tubes and surgical masks.
C. R. Bard grew through a large number of mergers and acquisitions during the 1970s and 1980s. In 1993, the company was found guilty of 391 criminal charges related to faulty catheters and had to pay $61 million in fines. C. R. Bard also faced several lawsuits related to faulty vaginal mesh devices, for which it initiated settlements for around 30,000 legal claims in 2013. To date, a large number of claims are still pending. C. R. Bard has followed a consistent inorganic growth strategy over the years. Some of its recent notable acquisitions include Rochester Medical, Lutonix, and Liberator Medical Holdings.