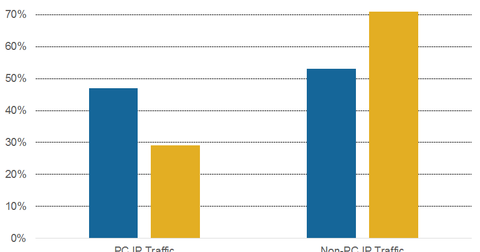 The Cisco-Apple Partnership: A Few Updates
By Adam Rogers

Updated
Creating app and voice experience
At the Worldwide Developers Conference, Apple (AAPL) and Cisco (CSCO) announced a partnership where Apple customers can optimize Cisco's networks for iOS devices and applications.
According to Apple, "With new features in iOS 10 combined with the latest networking software and hardware from Cisco, businesses everywhere can take full advantage of their infrastructure to deliver a great user experience for apps, calling, and collaboration."
Apple devices and Cisco networks will recognize each other, providing the former with better connectivity as well as advanced networking features such as fast roaming and Quality of Service (or QoS). Apple stated that Cisco's network service will be delivered over voice, video, and content.
Article continues below advertisement
Video content to drive IP traffic in the next five years
According to Cisco's Visual Networking Index (or VNI), 71% of total IP traffic in 2020 will originate from non-PC devices such as smartphones and tablets compared to 47% in 2015. Smartphones are also expected to account for 30% of total IP traffic in 2020, overtaking IP traffic from PCs, which should account for 29% of the total traffic.
Business Internet video traffic is expected to account for 66% of business Internet traffic by 2020 compared to 44% in 2015.
Cisco accounts for 4.3% of the First Trust ISE Cloud Computing ETF (SKYY). The other top holdings of this ETF include Facebook (FB), comprising 4.4% of SKYY's portfolio; Oracle (ORCL), comprising 4.3% of its holdings; and F5 (FFIV) comprising 4.2% of SKYY's holdings.