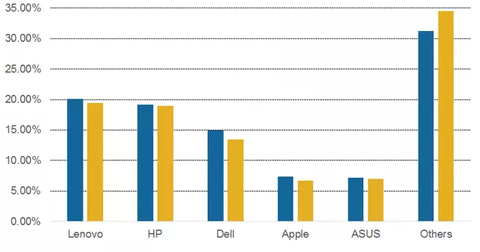 How the Chromebook Managed to Beat the MacBook in US Sales
By Adam Rogers

Updated
Low-priced laptops outpaced premium MacBook sales in 1Q16
According to market research company IDC (International Data Corporation), Google's (GOOG) (GOOGL) Chrome operating system partners such as Hewlett-Packard (HPQ), Samsung, Dell, Asus, Acer, and China's (FXI) Lenovo shipped 37% more low-priced notebooks than Apple's MacBook (AAPL) in the United States in 1Q16.
The price range of these low-priced notebooks is between $200 and $350 compared to $1,200 for the MacBook. According to Gartner, 70% of Chromebooks were sold to schools.
"Since the first model launched in mid-2011, Google's Chromebook has seen success mainly in the education segment across all regions," Gartner analyst Isabelle Durand said in a release.
Durand continued, "In 2014, the education sector purchased 72 percent of Chromebooks in EMEA, 69 percent in Asia/Pacific, and 60 percent in the U.S."
Article continues below advertisement
Apple sold 1.2 million Macs in 1Q16 in the United States
IDC further stated that Apple sold ~1.2 million MacBooks in the United States (SPY) in 1Q16. In comparison, this figure stood at 1.6 million units for Chromebooks.
In its most recent quarter, Apple saw a 9% YoY (year-over-year) fall in its Mac revenue. Its revenue in this business segment fell to $5.1 billion in fiscal 2Q16 compared to $5.6 billion in fiscal 2Q15. Unit shipments also fell by 12% YoY to 4.0 million from 4.6 million in the same period.