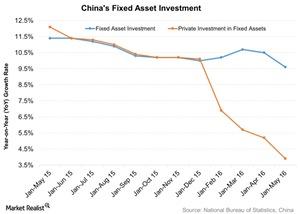 China's Fixed Asset Investment Fell to a 16-Year Low in May
By Lynn Noah

Jun. 22 2016, Updated 9:06 a.m. ET
China's fixed asset investment recorded slowest growth rate since 2000
According to the National Bureau of Statistics, or NBS, China's fixed asset investment grew by 9.6% YoY (year-over-year) to 18,767.1 billion yuan in the first five months of 2016. This was lower than the 10.5% growth recorded from January to April 2016. In May, urban fixed asset investment increased 0.49% on a month-over-month basis. The ongoing decline in investment in the manufacturing and infrastructure sectors resulted in the slowest rate of growth in fixed asset investment since 2000 in May.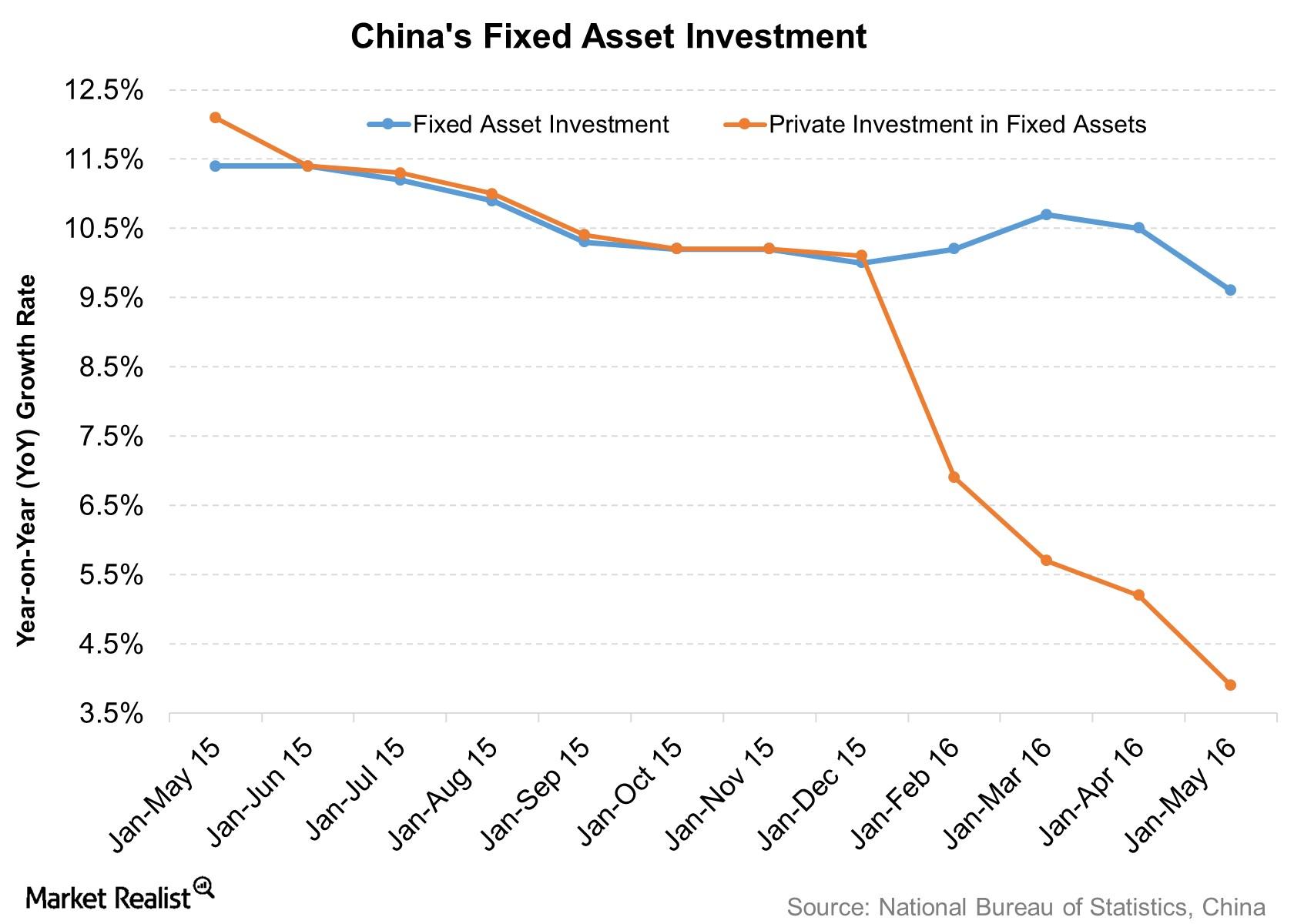 Meanwhile, private investment in fixed assets continued to slow down. Investment by private firms rose 3.9% YoY in the first five months of 2016 as compared to 5.2% growth from January to April. Private investment accounts for about 60% of overall investment in China (ASHR) (FXI).
Thus, the soft May results raise the possibility of policy easing by China's central bank in the coming months.
Article continues below advertisement
What does slowing fixed asset investment indicate?
Sheng Laiyun, a spokesman with the NBS, said, "The slowdown in private investment shows that economic growth momentum needs to be strengthened." He opined that private companies are reluctant to invest due to overcapacity in factories and a difficulty in obtaining finance, though China's economic fundamentals remain sound.
Sluggish private investment indicates that China's growth would be predominantly dependent on fiscal spending, and that occurs through inefficient state enterprises. Investment by state firms rose 23.3% YoY in January to May. Meanwhile, government spending soared 17.6% YoY in May versus 4.5% in April.
The government may have to pump more money into the system to achieve its target growth rate of 6.5%–7% in the awake of dismal private fixed asset investment. However, this would result in additional debt for China, and it is already facing fear of a hard landing due to massive debt.
On June 11, David Lipton, first deputy managing director of the IMF (International Monetary Fund), said, "A further increase in debt levels could handicap China's long-term economic growth."
The IMF said Beijing must act quickly to tackle mounting corporate debt, which it estimates has swelled to about 145% of GDP
In the next article in this series, we'll take a look at China's retail sales data.