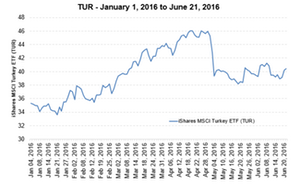 Central Bank of Turkey Cuts Lending Rates by 50 Basis Points
By David Meyer

Jun. 22 2016, Published 2:07 p.m. ET
Turkey's central bank eases monetary policy
To stimulate low inflation levels and boost economic growth, the Central Bank of the Republic of Turkey cut the overnight lending rate by 50 basis points, to 9%. Investors are pricing in another rate cut in case prices continue to remain sluggish in the coming days. The Fed's decision to keep rates unchanged allows central banks in emerging markets to cut rates without worrying about potential outflows from equity markets. The Turkish central bank is keeping an inflation level target of 5%. On June 21, the iShares MSCI Turkey ETF (TUR) rose, along with the broad-based iShares S&P Europe 350 ETF (IEV).
Article continues below advertisement
Reserve Bank of Australia minutes: Another rate cut?
Relatively optimistic minutes released by the Reserve Bank of Australia lifted sentiments, and the iShares MSCI Australia ETF (EWA) and the Vanguard FTSE Pacific ETF (VPL) were trading on a higher note on June 21. The inflation outlook in the short term and long term remained sluggish, with another rate cut in the cards. On the other hand, residential property prices in Australia fell by 0.2% in 1Q16, against a 0.2% rise in the previous quarter.
Hong Kong inflation below market estimates
Inflation levels in Hong Kong grew by 2.6% on an annual basis in the month of May, slightly lower than the 2.7% rise in April and the forecast of a 2.8% growth. Due to sluggish growth in prices of food products, this was the lowest reading since January of this year. The iShares MSCI Hong Kong ETF (EWH) was trading on a slightly positive note on June 21.